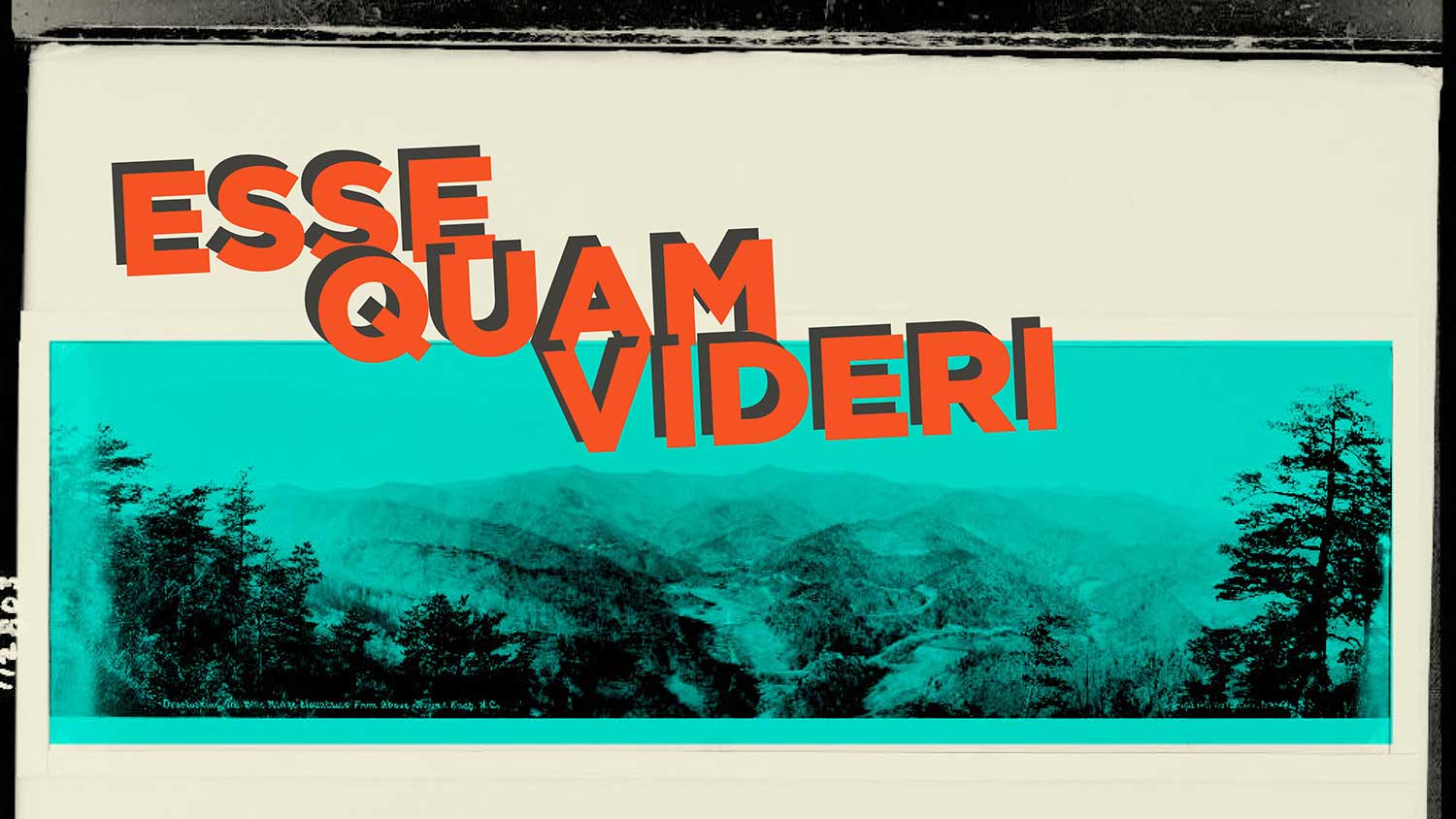 August 31–December 15, 2018
Exhibition Reception and Curator Talk: Thursday, September 20, 6:00 pm–8:00 pm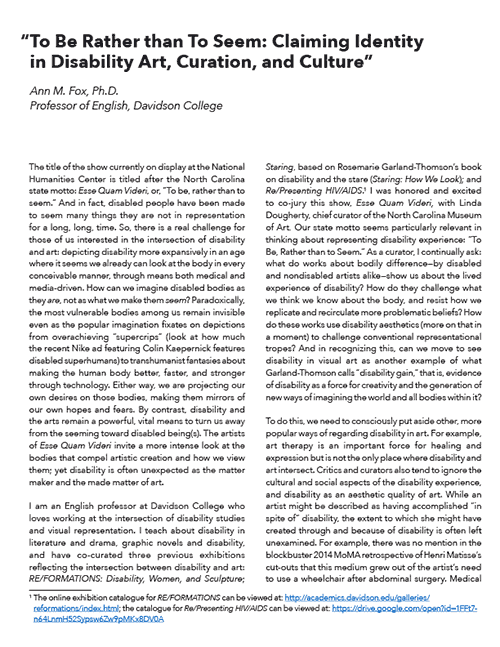 Read the exhibit's accompanying essay by Ann M. Fox, "To Be Rather than To Seem: Claiming Identity in Disability Art, Curation, and Culture."
Esse Quam Videri ["To be, rather than to seem"] is an exhibition exploring North Carolina, its history, culture, and landscape, through the lens of disability. There are many experiences which we all share: romantic and familial love, employment, citizenship, education, and caregiving, to name a few. People with disabilities have typically been erased or considered disqualified from these experiences, yet they too participate in them. Following the curatorial theme of the overarching EVERYDAY project, this exhibition will showcase works that tell stories unique to North Carolina, using universal experiences or ideas, but presented in audacious ways—particularly based in the knowledge and creativity that disability brings to them. "To be, rather than to seem": how can we explore through disability representation and disability aesthetics what disability history, knowledge, and culture is relative to North Carolina?
Works in this exhibit have been selected by jurors Ann M. Fox and Linda Dougherty. Fox and Dougherty will give a talk about the exhibit as part of the exhibition reception on September 20th.
Ann M. Fox, Professor of English, Davidson College
Dr. Ann Fox specializes in modern and contemporary dramatic literature and disability studies, regularly teaching classes about disability in drama, literature, and visual art. Her scholarship on disability and theater, and disability and visual culture has been published widely, and she has co-curated three disability-related visual arts exhibitions at Davidson College:
RE/FORMATIONS: Disability, Women, and Sculpture
;
STARING
(based on Rosemarie Garland-Thomson's book of the same name), and
Re/Presenting HIV/AIDS
. She is the 2017–18 Boswell Family Faculty Fellow at Davidson, and is currently working on a project on disability aesthetics in drama entitled
Adaptive Activism: How Disability Refigures the Cultural Landscape
.
Linda Dougherty, Chief Curator and Curator of Contemporary Art, North Carolina Museum of Art
Linda Johnson Dougherty oversees the contemporary art collection, organizes exhibitions, and develops artists' projects for the Museum Park. She codirected the public art program for the state of North Carolina for several years and prior to that she was a curator at The Phillips Collection, a research associate at the National Gallery of Art, and a research assistant at the National Museum of American Art in Washington, DC. As an independent curator and critic based in Chapel Hill, she contributed reviews and articles on contemporary art to numerous national art publications and has also written exhibition catalogs and guest curated exhibitions for museums and contemporary art centers in North Carolina and throughout the United States. She has a BA in art history from Wesleyan University and an MA in art history from Williams College.
Esse Quam Videri
is presented in partnership with the Visual Art Exchange as part of
THE EVERYDAY
, a multi-venue, multi-discipline, cross-disability project highlighting universal experiences told from the perspective of people with disabilities.