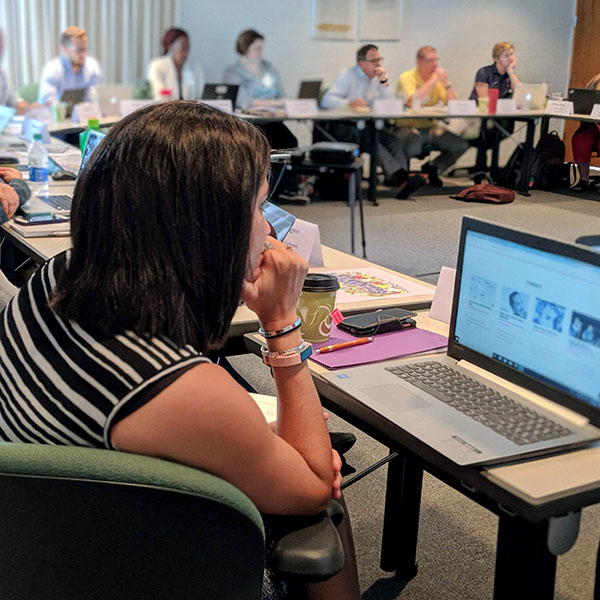 Education Programs at the National Humanities Center work to provide leadership, training, resources, and partnerships that advance humanities education at the K–16 level.
Our work focuses on the integration of strong scholarship and content, inquiry-based pedagogy, and emerging technology. We build bridges that put scholars and educators in conversation to support humanities classrooms at all levels. Critical to this mission is the role of in-service and experienced teachers in providing relevant and critical perspective to our work. The Teacher Advisory Council supports the Center's Education Programs for a one-year term of service. Chosen to represent multiple disciplines in the humanities, these teacher leaders accept an active role in the development, evaluation, and promotion of NHC materials and projects.
Term of Service
August 1, 2023–July 31, 2024
Duties
Specific duties of the Council will include (but not be limited to):
Attending an orientation at the National Humanities Center
Attending quarterly video conferences
Assisting with promoting and increasing awareness of education materials and programs offered by the Center
Evaluating existing programs and resources such as lessons, webinars, TeacherServe, and primary source collections
Piloting and presenting new programs and/or materials in professional development sessions
Reviewing proposed programs and resources materials for teaching and classroom feasibility
Contributing to projects and programs with regular, ongoing feedback
Benefits
Council members will receive benefits during their annual term, including:
Compensation with a modest stipend
Access to consultant opportunities with NHC programs and projects
Opportunities for professional growth and teacher leadership
Connections across disciplines and fields with a working network of humanities educators and organizations
Qualifications
Must be a full-time educator for the 2023–24 academic year
Must have a minimum of 3 years of teaching experience
Must work in a formal education setting, including a K–12 school, a community college, or a four-year university or college
Application
Interested educators who meet the above criteria are invited to submit their application. To be considered, please submit the following four documents and complete your application form by Monday, May 1, 2023 at 5:00 pm ET.
Letter of interest (1-page maximum)
Letter of support from direct supervisor
Current CV or resume (5-page maximum)
Prompt (500-word maximum): Describe one way that you have seen the study of the humanities make a deep impact in your school, your community, or with a student.
Contact
For more information, contact NHC Education Programs.