October 8–9, 2019 at the National Humanities Center
Mapping the Global Experience offers introductory and intermediate level training to educators on the use of geographic information system (GIS) technology in the humanities classroom. With a focus on geoliteracy skills as they apply to the humanities, each session will support the integration and application of Esri GIS services to curriculum and research.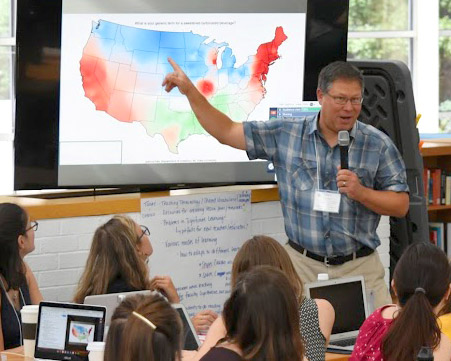 Overview
Geospatial literacy is a term that describes the ways in which a person views, understands, and interacts with the world. The geoliterate individual has an understanding of the dynamic physical and cultural forces that interact across the world. He or she has a spatial awareness of the world and is able to see and understand patterns, distributions, and interactions of the physical and human realms.
As geospatial literacy and technology continue to advance the work of humanities scholarship and education, the National Humanities Center supports efforts to model and train teachers in the best approaches in the field.
This ConnectED workshop will focus on the integration and application of GIS tools for teachers both new to the field and those experienced with GIS technology. These grant-funded training sessions will provide select teachers and influencers with the opportunity to immerse themselves in the concepts of geoliteracy and explore new approaches to interdisciplinary projects in their classrooms. ArcGIS Online and Story Map accounts are available for free, and these workshops will give participants training in ways to embed these tools into their instruction to benefit student learning.
The National Humanities Center looks to support a geospatial approach to the humanities by providing explicit connections with teaching and learning and spatial humanities.
Podcast
The use of geospatial technologies allows the interactions of place, space, time, and scale to be more obvious to teachers and students. Often there is an over-emphasis on the chronology of historical events without a strong consideration for their connections to geography. Geospatial technologies allow students to raise the critical ability to answer not only the important question of "where?" but also "why there?" With an emphasis on inquiry-based teaching and learning, Chris Bunin provides insights on the ways that GIS tools contribute to a deeper understanding of the humanities.

Participants
The workshop is intended for teacher leaders and education influencers at K–12 public and independent schools as well as instructors, professors, and education influencers at community colleges and universities. Each workshop will be designed with appropriate educational level context in mind.
Structure
Mapping the Global Experience will be held at the National Humanities Center in Research Triangle Park, NC October 8–9, 2019 from 8:30 am to 4:30 pm.
This workshop is for humanities educators with a particular interest and focus on global connections, including history, world history, geography, art, music, and literature as well as library and media staff and/or instructional coaches. Using the best practice approach of humanities education pedagogy, the session will feature clear pathways to integrate geospatial tools in the classroom. Extensive experience with digital mapping and spatial analytics technologies is not required, only a willingness to expand instructional strategies and approaches to integrate geoliteracy into storytelling and narrative. Participants will learn how to create a Story Map and complete the following: search for and add layers, create and format map notes, add point data using latitude/longitude and addresses, and save an online map as a simple app.
Instructors
Chris Bunin, Teacher of AP Human Geography and Geospatial Technologies, Albemarle High School, VA
During the past decade Bunin has collaborated on projects focused on leveraging geospatial technologies and geo-literacy in the classroom. These include: "The Virginia Experiment" and "America on the World Stage" Teaching American History Projects; the iSTEM Teacher Scholars Program: An Applied Geospatial Curriculum for Middle Schools; "Transatlantic Teacher Scholars: Change Over Time and Place in the Meuse-Argonne American Cemetery"; ESRI's GeoInquiries for US history and human geography; the US Census Bureau's Statistics in Schools Program; and the award winning book Jamestown to Appomattox: Mapping US History Using GIS (Carte Diem Press). He is also assistant professor of geography at Piedmont Virginia Community College and a member of the Virginia Geographic Alliance Steering Committee. Chris was named the 2016 Secondary Social Studies Teacher of the Year by the National Council for the Social Studies.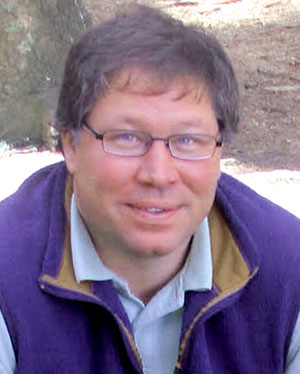 Andy Mink, Vice President for Education Programs, National Humanities Center
Mink previously served as the executive director of LEARN NC at the University of North Carolina at Chapel Hill after working as the director of outreach and education for the Virginia Center for Digital History and then the Curry School of Education at the University of Virginia. With all these organizations, he has designed and led professional development programs for K–12 and university educators that focus on hands-on instructional models. In 2002, Andy was named the National Experiential Educator of the Year by the National Society of Experiential Education. He is a Master Teacher with the Organization of American Historians in their Distinguished Speaker Program and also serves on the executive board of the National Council for Social Studies and the board of trustees for the National Council for History Education. He was awarded the 2015 Outstanding Support for Geography Education Award by the National Council for Geographic Education, and he serves as a GeoMentor with the Association of American Geographers.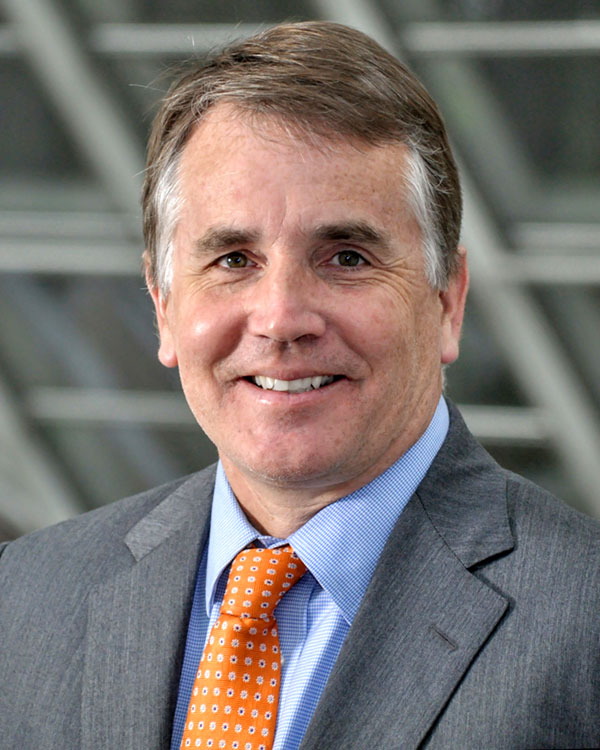 Mike Williams, Education Projects Manager, National Humanities Center
As a former history teacher, Williams has twice been recognized as the Warren County Schools Teacher of the Year and the 2017 Organization of American Historians Tachau National Teacher of the Year. He has published works in the texts "Family History in the Classroom" and "When We Were British: Interdisciplinary Approaches to Visualizing Early America," and was featured as a contributing author in Time magazine's "25 Moments That Changed History" series. He has been awarded fellowships through the West Indies Teacher Institute and Rural Teachers Global Trust where his research connected classrooms in London, Scotland, Ghana, and Barbados. He serves in a number of capacities, including the Executive Board of the North Carolina Council for the Social Studies, North Carolina Geographic Alliance, UNC-Duke African Diaspora Fellows Program and Warren County Community Center Executive Board.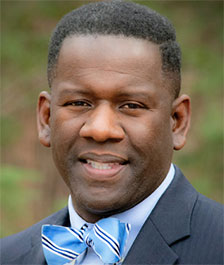 Application
All seats for Mapping the Global Experience are now full. For questions or further information, please contact Mike Williams, Education Projects Manager.