page
Triangle University Internship Program
May 15–June 20, 2017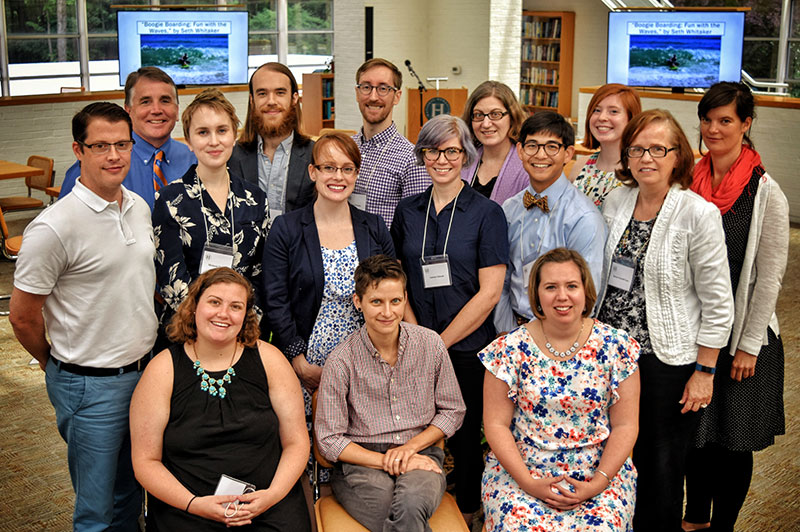 The Triangle University Internship Program launched a two-month initiative in May 2017, bringing together local graduate students and practicing classroom teachers in a unique collaboration. Participants worked together to enhance their own curricular and pedagogical knowledge and skills as well as to develop diverse materials and lessons that explore cross-curricular connections within the humanities.
Project Background
In spring 2016, the Center organized and hosted a series of activities designed to train PhD students in the humanities in curriculum design and lesson development. Recruited in collaboration with Duke University and the University of North Carolina at Chapel Hill, eight students from four disciplines (American studies, art history, English literature, and history) attended five sessions at the Center and received immersive feedback on their work in a seminar. The primary goals of this program were:
To identify a compelling topic in research and scholarship and develop supportive instructional materials
To train participants on the development of classroom-ready materials for the secondary classroom
To provide structured feedback on the practice and implementation of writing for a broader audience rather than solely an academic one
To author, revise, and publish classroom-ready lessons in the America in Class® digital repository hosted by the National Humanities Center
To develop skills that are valuable as participants enter academia and/or the marketplace
Based on the first-year goals, this internship program was a success. The participants provided positive feedback in their evaluations, and the Center has accepted final submissions for publication. In particular, the following aspects seemed to provide the most value:
Building cross-university capacity by creating a collegial professional cohort
Providing expert guidance on the best practices in humanities education, thereby increasing relevance and advocacy for the humanities at all levels
Expanding future NHC education work across disciplines, thereby increasing impact and audience
Producing innovative understandings of the value and relevance of the humanities to current day classrooms and citizenry
2016–17 Project Goals
The Triangle University Internship Program accepted 16 PhD students in the humanities to participate in a six-week training in spring 2017. We believe in connecting PhD students with practicing educators in the field so that our work is less hypothetical and more practical. To these ends, the Internship Program included five TeachHouse members from Duke University who worked alongside the PhD students. These practicing in-service public school teachers offered clear, relevant perspectives as well as insights into inquiry-based best practices in humanities education. The collective experience provided all participants with a much deeper, more applicable understanding of humanities content, inquiry-based pedagogy, and instructional technology.
This program provided experience and training in multiple aspects of humanities work including (but not limited to) curriculum design and lesson writing, outreach initiatives, and emerging digital technologies. Year Two goals aimed to build off of the positive outcomes of the pilot with the following changes and improvements:
integrating the work of the internship to provide more access into on-going Center initiatives and workplace culture
identifying a theme with strong cross-disciplinary opportunities that encourages advocacy and outreach at the school, university, and national level
providing discipline-specific training in curriculum design and lesson writing
publishing and promoting final work through national NHC network, including associated professional organizations
Meet the Team
Karen Carroll Cave
NHC Staff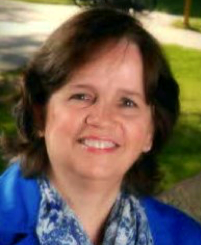 Cave is the senior writer and researcher for the National Humanities Center's Education Department. In 2014, she finished a thirty-year career in the high school classroom, having taught Advanced Placement US History, English Language, and Psychology, honors/standard levels of American History, Sociology, and Freshman English, and other courses. She developed and taught a Leadership Development course for the North Carolina Virtual Public School for nine years and served in several administrative capacities. She has presented to many conferences and groups and has published articles in the North Carolina Historical Review and the Tar Heel News. She authored Windows to the Past: Primitive Watercolors from Guilford County, North Carolina in the 1820s (Greensboro Historical Museum, 1983) and was the Photographic Researcher for Greensboro: A Chosen Center, 1st ed. (Greensboro Historical Museum, 1982). She holds a Ph.D. in Curriculum and Teaching from the University of North Carolina at Greensboro, a Masters in American History from East Carolina University, and a BA in history from North Carolina State University. She holds a post-Masters certificate in Adult Learning and College Teaching from University of North Carolina at Greensboro and is certified by the National Board for Professional Teaching Standards.
Michaela Dwyer

Dwyer is a graduate student in American Studies at the University of North Carolina at Chapel Hill, where she studies place, 'southernness,' and dance and performance within the legacies of Black Mountain College and arts infrastructure across the American South. She is a chief contributor at Indy Week, where she writes about local dance; she also works on public humanities and performing arts programs across the Research Triangle area. She received her BA in English and Documentary Studies from Duke University.
Scott Ellis

A native North Carolinian, Ellis graduated Duke University in 1993 with an AB in Psychology and certification in elementary education. He taught for two years in the Marietta City Schools, just outside of Atlanta, GA. During that time he was selected Novice Teacher of the Year. After teaching for one year in the Wake County Public School System in Raleigh, NC, he left the profession for dental school. In 2001 he graduated from Tufts University School of Dental Medicine. He worked in the field of dentistry for ten years, practicing in Washington, DC and northern VA. All the while he missed the teaching profession. In 2011 Scott returned to NC and elementary education. Since then he has taught 3rd and 4th grade in Durham and Orange County. Currently, Scott is Lead Mentor for TeachHouse and has a fellowship with Duke University's Program in Education.
Carlee Forbes

Forbes is a PhD candidate in Art History at the University of North Carolina at Chapel Hill. Her research focuses on Colonial-era Congo and examines artist's innovations and artist-patron relationships. She completed her bachelor's degree at Michigan State University and her MA at the University of Florida. Additionally, Forbes has worked with the Harn Museum of Art in Gainesville, the Ackland Art Museum and the North Carolina Museum of Art.
Alyssa Miller

Miller is a PhD candidate in the Cultural Anthropology department at Duke University. Her dissertation project, Contraband and Social Contract in the Borderlands of Tunisia, examines the historical legacy of uneven development in Tunisia following the 2011 Dignity Revolution by tracking the precarious labor of smuggling in the nation's hinterlands. Based on 18 months of ethnographic fieldwork in Kasserine governorate, her work examines the link between deferred hopes for distributive justice and the emergence of new political subjectivities among marginalized Tunisian youth. She is also interested in the institutional performance of transitional justice, particularly efforts to frame uneven development as a form of victimization by the postcolonial state. She holds an MA in Middle Eastern Studies from the University of Texas at Austin, where her research focused on the animal as a figure of violence and trauma in the Lebanese war novel. As a social scientist grounded in the humanities, her research draws on literature, cinema, and other forms of cultural production in addition to classic fieldwork methods.
Mary Margaret Mills

When Mills was in high school, she worked with marginalized youth in her county through a peer-mentoring program. It was this experience that made her realize she wanted to work in education, specifically starting at a Title I School. Mary pursued a Bachelor of Arts degree in Political Science with a minor in Education and History from the University of North Carolina at Chapel Hill. Following that, she completed her Masters in the Art of Teaching from Duke University, which led her to Northern High School and Duke TeachHouse. She had the good fortune of being hired at Northern after completing her student teaching there. Mary currently teaches American History I and II, as well as AP US History, and serves as the Student Council Adviser. Her experience as a beginning teacher has been enhanced by being a TeachHouse Fellow and the positive community that she has received, in the house, as well as being a National Endowment for Humanities Fellow, which allowed her to spend the summer of 2016 exploring the Gilded Age and Progressive Era through a summer institute.
Andy Mink
NHC Staff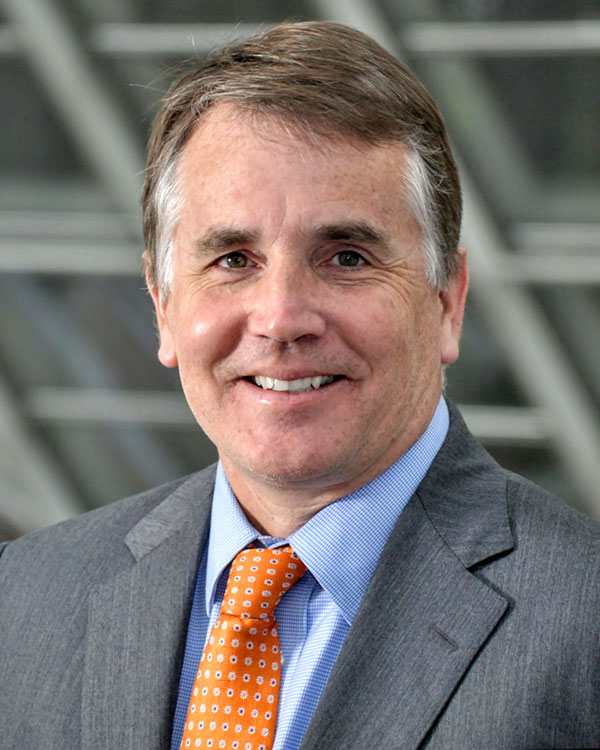 Mink is the Vice President for Education Programs at the National Humanities Center. Previously he served as the Executive Director of LEARN NC at the University of North Carolina at Chapel Hill after working as the Director of Outreach and Education for the Virginia Center for Digital History and then the Curry School of Education at the University of Virginia. With all organizations, he designs and leads professional development programs for K–12 and university educators that focus on hands-on instructional models. In 2002, Andy was named the National Experiential Educator of the Year by the National Society of Experiential Education. He is a Master Teacher with the Organization of American Historians in their Distinguished Speaker Program and also serves on the Executive Board of the National Council for Social Studies and the Board of Trustees for the National Council for History Education. He was awarded the 2015 Outstanding Support for Geography Education Award by NCGE, and he serves as a GeoMentor with the Association of American Geographers.
Isabell Moore

Moore is a PhD Student in the History Department at the University of North Carolina at Chapel Hill and lives in Greensboro, NC. Her research focuses on social movements in the 20th century. She is a host on the New Books in History channel of the New Books Network and is interested in digital humanities and public history. In addition to her academic work, she is a parent and is involved in activism for racial, gender, economic and queer justice.
David Rambo

Rambo is a PhD candidate in Duke University's Literature Program. His dissertation, titled Technics Before Time, elaborates a generic category of technicity, which is philosophy's term for the essence of all things technical. By engaging with such techno-aesthetics as guitar effects pedals and pen-and-paper Dungeons & Dragons, the dissertation works toward a formal principle of technics that operates anterior to the prejudices of daily human use and socioeconomic ideology about what technology is. David's teaching, publications, and presentations engage with finance, media-theoretical aesthetics, Karl Marx, philosophy and narrative in video games, and contemporary fiction.
Taylor Ross

Ross is a PhD student in the Graduate Program in Religion at Duke University. He writes at the intersections of patristic theology, aesthetics, and philosophy of language. He is also earning a graduate certificate from the Center for Philosophy, Arts, and Literature at Duke University. His current research focuses on the development of conceptual grammars of time/space in Early Christian texts, especially against the background of ancient/late ancient philosophical traditions.
Anneke Schwob

Schwob is a doctoral candidate studying American literature and science at the University of North Carolina at Chapel Hill. Her archival research explores the narrative and scientific production of wilderness. This research has been supported by fellowships from the Science Fiction Society, the Graduate School at the University of North Carolina at Chapel Hill, and the Mary and David Harrison Institute at the University of Virginia. Her dissertation, In Situ: Scientific Space and the American Literary Imagination, focuses on the interaction between American science, exploration, and values at the turn of the twentieth century.
Emily Stout

Stout is a Social Studies educator at Enloe Magnet High School in Raleigh, NC, and a first-year fellow at Duke TeachHouse. Her primary classroom focus is civics and government, and she is excited to bring this passion to the National Humanities Center this spring. Growing up in Cranbury, NJ, Emily got her first glimpse into government when her father served as mayor of her small town. She graduated from Duke University in 2016 with a BA in Public Policy and a teaching license. She is fluent in French and spent several months studying in Paris. Outside of school, Emily enjoys hiking, reading, and singing. She has visited 11 foreign countries, and spent her spring break traveling in Cuba. She is grateful for the opportunity to intern at the NHC and looks forward to bringing innovative scholarship to her classroom.
Max Symuleski

Symuleski is a PhD student in Computational Media Arts and Cultures at Duke University. Max specializes in twentieth-century visual culture and media theory and is working on a dissertation project on themes of environment and technology in 1960s and 70s US art and visual culture. His current research explores Mierle Laderman Ukeles's maintenance art and the political economy of maintenance in light of ongoing environmental crises.
Libby Taylor
NHC Staff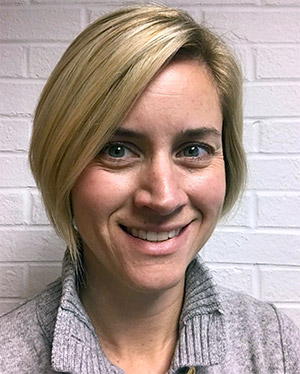 Taylor is the Coordinator of Education Programs for the National Humanities Center. She currently oversees the webinar series for America in Class and coordinates the Center's professional development programs for teachers. Libby previously taught high school English Language Arts in both Durham and Wake County schools. Prior to teaching Libby was an Event Manager for Fight For Children, a non-profit in Washington D.C., and The Atlantic magazine. She holds a Master's degree in Teaching from the University of North Carolina at Chapel Hill and Bachelor's degrees in English and Art History from Vanderbilt University.
Savannah Windham

After graduating from the University of Kansas with a BA in English in 2012, Windham taught English as a Foreign Language in Spain for a year and was inspired to make teaching her career. In 2013 she returned to pursue a Master of Arts in Teaching (MAT) at Duke University. Since 2014 she has taught English and Trends in Contemporary Literature at Northern High School. Savannah is currently a Stanford Hollyhock Teaching Fellow and Duke TeachHouse Fellow.
Benton Wise

Wise hails from Marion, SC. A Benjamin Newton Duke scholar, he received his Bachelor of Arts degree from Duke University in 2013, majoring in Public Policy with a minor in Education. He then decided to take his lessons from service learning and policy classrooms into a career in education. In 2014 Benton earned his Master of Arts degree in Teaching with a concentration in teaching social studies from Duke University. Upon graduation Benton decided to move back to his home state and start teaching as a rural educator in Lake City, SC. After a challenging first year of teaching, Dr. Allman, then Director of the MAT program at Duke University, reached out describing the exciting Duke TeachHouse initiative. Excited about moving back to the Triangle, Benton took a position at Southern School of Energy and Sustainability as a World History teacher and is currently in his third year of teaching. He believes the teacher in the classroom makes a difference in students' lives, from encouraging students to seize growth opportunities to challenging each individual to widen their perspective. As a teacher who looks to inform policy, Benton trusts that education can bridge more gaps and answer more adaptive challenges our society presents.