page
Creating an Accessible Classroom and Inclusive Curriculum
July 17–21, 2023 at the National Humanities Center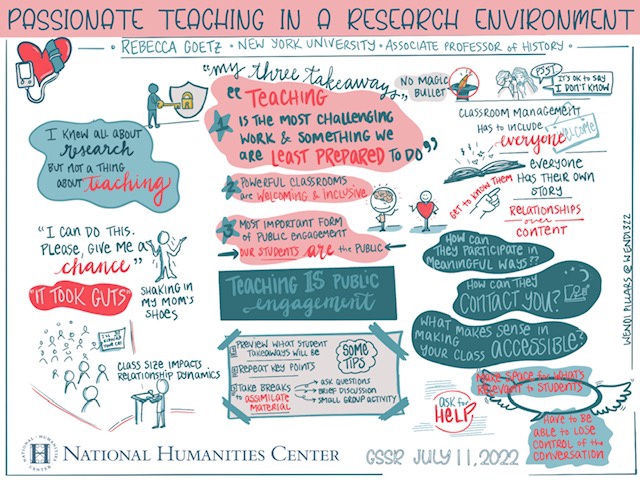 Since 2015, the National Humanities Center (NHC) has offered graduate students in humanities doctoral programs an opportunity to learn about and experience best practices in teaching and learning.
Each year, a cohort of students working in small teams creates instructional materials and materials ready for the job market. Focusing on translating research into practice, students are given guidance on how to create meaningful learning experiences for any level of audience in sessions led by prominent scholars, master educators, and technology experts. Most importantly, the design of the residency requires direct and collegial work among students from different universities and disciplines, creating opportunities to engage with a much broader network of humanities professionals.
Program Overview
This five-day, in-person residency will model best practices for undergraduate teaching in the humanities classroom. Our focus will be on effective instructional strategies that emphasize accessibility and inclusivity in curriculum planning, classroom teaching practice, and grading and assessments. Participants will also learn grant writing skills, engage with public scholarship, and discuss humanities-focused careers paths inside and outside the academy. Graduate student cohorts will learn from university professionals, and participants will also have opportunities to work with each other through interactive sessions and projects.
Topics will include:
Universal Design Practices and Instruction
Building Community, Relationships, and a Professional Network
Accessibility Practices
Class Evaluations
Best Practices for Crafting a CV
Grant Writing for Research Projects
How to Become a Public Scholar
The Graduate Student Summer Residency program is also designed to address issues for early career scholars and educators to consider in life after the PhD program. Topics will include:
Understanding Copyright in Publication and Instruction
Finding Support for Work-Life Balance
Job Market to First Job
Program Goals
The Graduate Student Summer Residency program focuses each year on a specific pedagogical theme paired with an emerging technology. Throughout the program, participants will work in cross-university and interdisciplinary teams to create instructional and professional materials for their portfolio. Sessions will be designed and led by established scholars in the humanities who can model innovative uses of instructional technology in their research and teaching. Workshops will provide participants with hands-on experience in connecting their own research to practice.
The primary goals for this program include:
Training participants on the development of classroom-ready materials for the university classroom, including familiarizing them with the most recent research on learning sciences
Providing structured feedback on the practice and implementation of writing for a broader audience rather than solely an academic one
Developing and recognizing skills that are marketable and valuable in the job search
Bolstering participants' CVs through selection to and completion of the National Humanities Center's Graduate Student Summer Residency program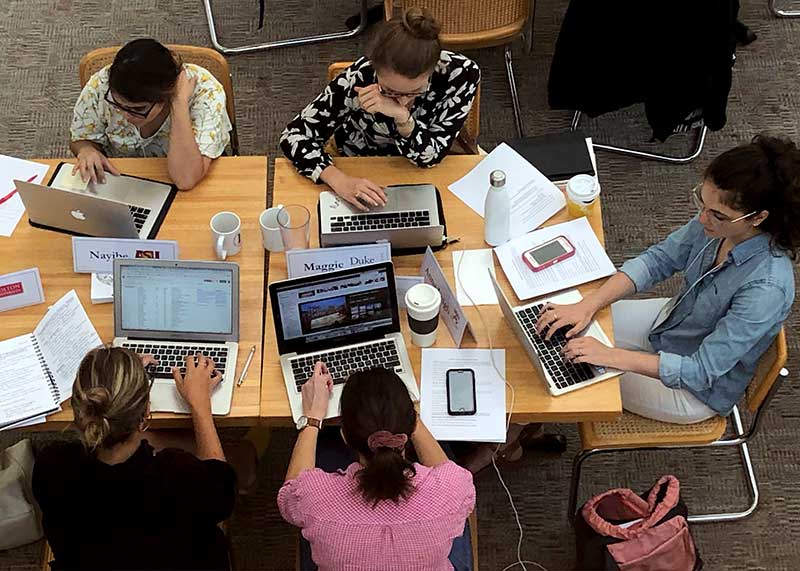 More than simply developing a strong pedagogical understanding, this program will also provide a broader introduction to the NHC and its work in humanities education and outreach. These activities will aim to:
Integrate the work of the internship to provide more access to ongoing NHC initiatives and workplace culture
Identify a theme with strong cross-disciplinary opportunities that encourages advocacy and outreach at the school, university, and national level
Application Process
We are currently accepting nominations of PhD students for the 2023 Graduate Student Summer Residency. The selection process will be designed and led by the institution, which can nominate up to four students annually. NHC staff are available to work with university representatives to develop recruiting materials, including an orientation meeting with faculty and students. We expect reach a capacity of 45 graduate students quickly, so we urge participating institutions to indicate their interest and submit applications as soon as possible. Once selected, students will work with NHC staff to finalize travel plans, complete all required paperwork, and prepare for the residency program. Participants will also participate in a short welcome orientation video conference and receive a detailed syllabus.
The tuition cost per participant is $2,100 and covers all programming for the NHC Graduate Student Summer Residency, including materials, lodging, local transportation, and lunch and breakfast daily. The tuition per participant without lodging is $1,375.
COVID-19 Policy: The National Humanities Center requires all guests to provide documentation of vaccination (fully vaccinated and one booster shot). If selected for this program, you must submit an image of your vaccination card.
For more information, contact NHC Education Programs.

Next Steps and Timeline
Institutional partners will complete the following steps:
February 24, 2023: University partners commit to sending one to four participants. NHC works with representatives to develop marketing and recruitment strategies.
March 17, 2023: University partners submit nominations for up to four current humanities PhD students for a position in the residency program.
By March 31, 2023: NHC will establish contact with participants, schedule video orientation, and share expectations and syllabus.