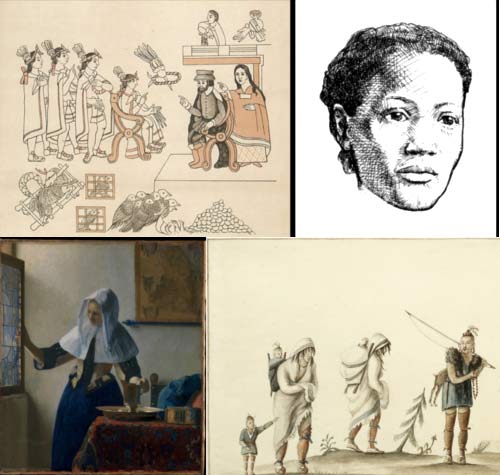 The history of European discovery, contact, and early settlement in the Americas is traditionally represented as a chain of great men. Students and the wider public are often familiar with the lives of few women beyond Martha Washington, Betsy Ross, and now the Schuyler sisters. This course disrupts narratives that focus exclusively on the history of men by exploring the lives of European, Indigenous, and African-descended women during the sixteenth through early eighteenth centuries. Women from a variety of backgrounds were integral to the development of Spanish, Dutch, English, and French colonial societies in North America. This course traces the lives of Indigenous interpreters, enslaved laborers, and women who traversed the Atlantic and carved a place for themselves in colonial legal, social, and economic systems. The history of the Americas cannot be understood without examining the experiences of these women.
This course has been designed with the generous support of the New-York Historical Society.
Sample Activities
Women, Conquest, and Encomiedas in the Spanish Colonies
Women and Economic Power in the Dutch Colonies
Women and the Rule of Law in the English Colonies
Women, Religion, and Social Freedom in the French Colonies
Rethinking the Narrative: Lived Experiences of Women in the American Colonies
Professional Development Hours
Fall/Spring six-week course: 35
Register Now
Registration fee: $125
Spring Session 2: March 20–May 5, 2023 | REGISTRATION CLOSED
Images: (1) Lienzo de Tlaxcala, Hernán Cortés and La Malinche meet Moctezuma II in Tenochtitlan, November 8, 1519. Facsimile (c. 1890) of Lienzo de Tlaxcala. Courtesy of The Bancroft Library, the University of California, Berkeley. (2) "Artist's rendering of Dorothy Angola." Slavery in New York Curriculum Guide (New York: New-York Historical Society, 2005). (3) Johannes Vermeer, Young Woman with a Water Pitcher, ca. 1662. Metropolitan Museum of Art, Marquand Collection, Gift of Henry G. Marquand, 1889. (4) Baroness Anne-Marguerite-Henriette Hyde de Neuville, Oneida Family, 1807. New-York Historical Society.