Fourteen Educators Selected in Inaugural Group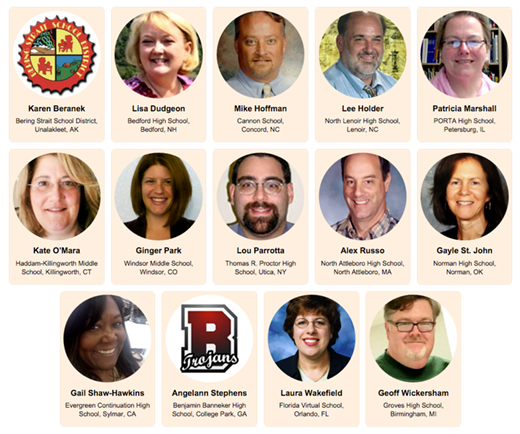 The National Humanities Center has announced the selection of fourteen highly qualified educators from across the country as members of its inaugural Teacher Advisory Council. These teachers, from school districts in twelve states, will work with the Center's education program staff in piloting, evaluating, and promoting resources and programs that complement its nationally recognized teaching and professional development materials.
The Teacher Advisory Council has been formed by the National Humanities Center as part of its ongoing effort to provide the most effective resources for teachers of American history, literature, and culture. "The Center's education resources and webinars consistently receive high marks from teachers all over the country," said Center president and director Robert D. Newman, "and we want to ensure that we continue to provide the best possible tools for teachers to use in their classrooms, delivered in ways they find most helpful and useful."
The Center's teaching resources have been widely recognized for their rigorous and thoughtful examinations of primary documents. In 2014 the Center's America in Class® Lessons received the Primary Source Award for Teaching from the Center for Research Libraries (CRL). In presenting the award, the CRL described the lessons as "an innovative program that embodies an impressive combination of timeliness, collaboration, convenience, and educational excellence."
The Center considered more than 500 nominations for this first team of teacher advisors. On average, each advisor will bring more than twenty years of classroom experience to their participation on the council. Learning from these seasoned educators is vital for the Center's education staff as they design new content, platforms, and programs.
The newly named council members are:
In its first year the Teacher Advisory Council will evaluate existing online offerings, pilot new materials with their students, and provide feedback as to their feasibility, and assist the Center's education team in raising awareness of the resources and platforms with their colleagues nationwide.
The Teacher Advisory Council formalizes an old habit. Lee Holder, a history teacher in North Carolina and longtime friend of the Center's education programs, has seen the online materials grow, by incorporating feedback provided by teachers. "It's unusual for a content provider to be so responsive. Most publishers thank you for your comments, and you never hear from them again. The NHC often asks teachers to critique their lessons or webinars and comments and suggestions are applied to new items or programs. It's gratifying to see that my opinions and experience are valued."
Gail Shaw-Hawkins teaches social studies in California and is grateful for the opportunity to serve on the council. "It's a structured way for me to share these great professional development webinars and texts with my colleagues and give something back to the Center, which provides online professional development that is convenient, practical, and full of resources for teachers who want to teach more than what the textbook provides. It is an innovative way to bring new materials, content, and concepts into your teaching."
The Center opened in 1978, and since 1984 has included teacher professional development as a key part of its mission. In recent years, through the Internet, the Center's education resources have expanded exponentially, allowing teachers from across the United States to participate in live webinars with leading scholars, to freely download thousands of primary source materials ready-made for classroom use, and to access digital lessons and other tools that are ideally suited to teaching twenty-first-century skills.
Most council members will serve single calendar-year terms with many opportunities to extend their association with the council and the Center. Robert D. Newman said, "Maintaining an open dialogue with classroom teachers is essential for us to produce resources and programming that meets the needs of today's students."
About the Center
Contact
Don Solomon
Director of Communications
919.406.0120
The National Humanities Center is the world's only independent institute dedicated exclusively to advanced study in all areas of the humanities. Governed by a distinguished Board of Trustees from academic, professional, and public life, the Center began operation in 1978 and offers programs to encourage excellence in scholarship, improve teaching, and increase public appreciation for, and engagement with, the humanities.