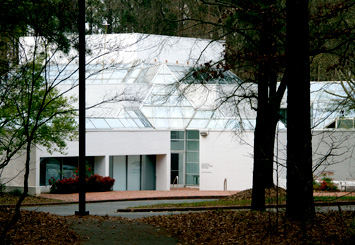 The National Humanities Center announces the appointment of 37 Fellows for the academic year 2016–2017. These leading scholars will come to the Center from 17 states, Argentina, South Africa, and the United Kingdom. Chosen from 449 applicants, they represent humanistic scholarship in anthropology; classics; comparative literature; East Asian languages and literatures; English language and literature; feminist, gender, and sexuality studies; history; history of art, architecture, and archaeology; music history and musicology; philosophy; race, ethnicity and postcolonial studies; and religion. Each Fellow will work on an individual research project and will have the opportunity to share ideas in seminars, lectures, and conferences at the Center.
These newly appointed Fellows will constitute the thirty-ninth class of resident scholars to be admitted since the Center opened in 1978. Robert D. Newman, president and director of the National Humanities Center, said, "This tremendous group of scholars is conducting interesting and important work across a range of humanistic fields. We are delighted to provide them support and look forward to their arrival."
The National Humanities Center will award over $1,300,000 in individual fellowship grants to enable scholars to take leave from their normal academic duties and pursue research at the Center. This funding is made possible by the Center's endowment, by grants from the American Council of Learned Societies and the National Endowment for the Humanities, and by contributions from alumni and friends of the Center.
About the National Humanities Center
The National Humanities Center is the world's only independent institute dedicated exclusively to advanced study in all areas of the humanities. Governed by a distinguished Board of Trustees from academic, professional, and public life, the Center began operation in 1978 and offers programs to encourage excellence in scholarship, improve teaching, and increase public appreciation for, and engagement with, the humanities.

Contact
Don Solomon
Director of Communications
919.406.0120
National Humanities Center Fellows 2016–2017
Ásta (Philosophy, San Francisco State University) Categories We Live By (Ruth W. and A. Morris Williams, Jr. Fellowship)
Derek Attridge (English Language and Literature, University of York, UK) Poetry in Performance from Homer to the Renaissance (M. H. Abrams Fellowship)
Erin Beeghly (Philosophy, University of Utah) Seeing Difference: The Ethics and Epistemology of Stereotyping (Philip L. Quinn Fellowship)
Celeste-Marie Bernier (Race, Ethnicity, and Post-Colonial Studies, University of Edinburgh) Living Parchments: Artistry and Authorship in the Life and Works of Frederick Douglass (John Hope Franklin Fellowship)
Matthew Booker (History, North Carolina State University) The Oyster and the City: The Rise and Fall of the Edible City, 1870–1930 (Donnelley Family Fellowship)
Douglas Campbell (Religion, Duke University Divinity School) Depicting Paul: The Book of Acts and History (Duke Endowment Fellowship)
Sebastián Carassai (History, University of Buenos Aires) Eclipsed Histories: The Sixties and Seventies in Argentina from a Microhistorical Perspective (Frank H. Kenan Fellowship)
Mariana Dantas (History, Ohio University) Family Formation, Race, and Social Mobility in Eighteenth-Century Minas Gerais, Brazil (Walter Hines Page Fellowship of the Research Triangle Foundation)
Marlene Daut (Comparative Literature, Claremont Graduate University) An Anthology of Haitian Revolutionary Fictions (Age of Slavery) (Josephus Daniels Fellowship of the Research Triangle Foundation)
Florence Dore (English Language and Literature, University of North Carolina at Chapel Hill) Novel Sounds: The American Novel in the Age of Rock and Roll (Fellows' Fellowship)
Laurent Dubois (History, Duke University) Katherine Dunham: An Afro-Atlantic Itinerary (William C. and Ida Friday Fellowship)
Mary Floyd-Wilson (English Language and Literature, University of North Carolina at Chapel Hill) The Tempter or the Tempted: Demonic Causality on the Shakespearean Stage (Hurford Family Fellowship)
Christopher Grasso (History, College of William & Mary) Skepticism and American Faith: From the Revolution to the Civil War (Henry Luce Fellowship)
Zsuzsanna Gulácsi (History of Art, Architecture, and Archaeology, Northern Arizona University) Artistic Culture of Religious Instruction Along the Trade Routes of Late Ancient and Medieval Asia (GlaxoSmithKline Fellowship)
Kim F. Hall (Race, Ethnicity, and Post-Colonial Studies, Barnard College, Columbia University) 'Othello was my grandfather': Race and Shakespeare in the African Diaspora (John G. Medlin, Jr. Fellowship)
Nicholas Harkness (Anthropology, Harvard University) A Semiotics of Intensity: Glossolalia, Collective Prayer, and South Korean Social Life (Rockefeller Foundation Fellowship)
Mary Elaine Hegland (Religion, Santa Clara University) Days of Revolution: Religion, Ritual & Politics in an Iranian Settlement (Archie K. Davis Fellowship)
Phillip Horky (Classics, Durham University) Pythagorean Philosophy: 250 BCE to 200 CE (Rockefeller Foundation Fellowship)
Benjamin Kahan (Feminist, Gender, and Sexuality Studies, Louisiana State University) Sexual Etiologies and the Great Paradigm Shift (Delta Delta Delta Fellowship)
Ilya Kliger (Russian and Slavic Studies, New York University) Untimely Community: The Tragic Imagination in the Age of Russian Realism (Benjamin N. Duke Fellowship of the Research Triangle Foundation)
Miguel La Serna (History, University of North Carolina at Chapel Hill) The Last Revolution: Shining Path and the War of the End of the World (John E. Sawyer Fellowship)
Nicole Marafioti (History, Trinity University) Crime and Sin in Late Anglo-Saxon England (ACLS Burkhardt Fellowship)
Kate Marshall (English Language and Literature, University of Notre Dame) Novels by Aliens (Founders' Fellowship)
Richard Mizelle (History, University of Houston) Sugar Diabetes: Medical Entitlement and Civil Rights in America (NEH Fellowship)
James Mulholland (English Language and Literature, North Carolina State University) Anglophone Literature and the Emergence of the Colonial Public Sphere in Asia, 1774–1819 (ACLS Burkhardt Fellowship)
Grace Musila (English Language and Literature, Stellenbosch University) Critical Illegibility, Blackness and Scoring Dangerous Freedoms (STIAS Iso Lomso Fellowship)
Edith Sarra (East Asian Languages and Literatures, Indiana University, Bloomington) Unreal Houses: Character, Gender, and Genealogy in the Tale of Genji (Robert F. and Margaret S. Goheen Fellowship)
Tamara Sears (History of Art, Architecture, and Archaeology, Yale University) Wilderness Urbanisms: Architecture, Landscape, and Travel in Southern Asia (William J. Bouwsma Fellowship)
Tatiana Seijas (History, Pennsylvania State University) First Routes: Indigenous Trade and Travel between the American Southwest and Mexico (ACLS Burkhardt Fellowship)
Cynthia Talbot (History, University of Texas at Austin) Martial Sentiments: Writing Warrior Histories in Mughal India, 1590–1680 (NEH Fellowship)
Richard Turits (History, College of William & Mary) New World of Color: Slavery, Freedom, and the Making of Race in Santo Domingo and the Atlantic World (Delta Delta Delta Fellowship)
Annabel Wharton (History of Art, Architecture, and Archaeology, Duke University) Manipulating Models: Diagnostic, Phenomenal, Architectural (Birkelund Fellowship)
Luise White (History, University of Florida) Fighting and Writing: The Rhodesian Army at War and Post-War (Kent R. Mullikin Fellowship)
Nancy Wicker (History of Art, Architecture, and Archaeology, University of Mississippi) Viking Art in Scandinavia and across the Viking Diaspora: Patrons, Producers, and Consumers from the Fifth through the Eleventh Centuries (Allen W. Clowes Fellowship)
Jakobi Williams (African American and African Diaspora Studies and History, Indiana University, Bloomington) "Neighborhoods First": The Black Panther Party as a Model for Community Organizing in the US and Abroad (NEH Fellowship)
Blake Wilson (Music History and Musicology, Dickinson College) Dominion of the Ear: Memory, Performance, and Oral Poetry in Early Modern Italy (M. H. Abrams Fellowship)
Shellen Wu (History, University of Tennessee, Knoxville) Global Frontiers and the Geopolitical Making of Modern China (Carl and Lily Pforzheimer Foundation Fellowship)