Introduction
An important notion in moral philosophy and many legal systems is that certain circumstances can mitigate an individual's responsibility for a transgression. Generally speaking, such situations are considered extenuating in virtue of their exceptional influence on a person's ability to act and make decisions in a normal manner. The essence of the case for diminished responsibility is that these special circumstances impede the ability of a normal person to exercise self-control.
In recent years, however, this notion of diminished responsibility has come to wider attention in a quite unexpected way. Some researchers, drawing on findings from social psychology, have argued that situational forces may play a much larger role in behavior than traditionally assumed. The situational forces in question are often entirely ordinary, mundane and seemingly trivial. Given that such influences are pervasive, the general issue raised concerns control in commonplace cases. According to a condensed version of this view – which we call the Frail Control hypothesis for convenience – even in unexceptional conditions, humans have little control over their behavior. If correct, this line of argument could have widespread and dramatic ramifications, notably for our practices of attributing moral and legal responsibility. (We note that although in certain rare cases control and responsibility come apart, in most cases of moral and legal responsibility attribution, control and responsibility are closely linked.)
While agreeing that moral philosophy and the law can benefit from a greater understanding of developments in psychology and neuroscience, we suggest that the Frail Control challenge is markedly weakened once a wider range of data is considered. In our assessment, the Frail Control hypothesis underestimates the vigor of normal goal-maintenance in the face of distractions, and neglects the role of nonconscious aspects of control as displayed, for instance, in the exercise of cognitive, motor and social skills. Furthermore, a large psychological literature has demonstrated that nonconscious, automatic processes are pervasive and anything but "dumb". Instead, they are often remarkably sophisticated and flexible in performing functions such as goal pursuit that were once considered the sole province of conscious cognition (Bargh & Morsella, in press) [3].
On the basis of these and other data, we develop an account of control that we believe goes some way toward sharpening the meaning of control – including nonconscious control – in a way that accommodates the role of nonconscious processes in nearly everything we do. the general conclusion we will be arguing for is that nonconscious processes can support a robust form of control and, by extension, that consciousness is not a necessary condition for control. One notable feature of our account is a model of control in which neurobiological criteria, rather than intuitive or behavioral criteria alone, define the boundaries of control. A significant virtue of this account, in light of the pervasiveness of automatic processes in our cognitive lives, is that it is agnostic as to whether the underlying processes are conscious or nonconscious.
Frail Control
A leading advocate of the Frail Control hypothesis is the philosopher John Doris (e.g., Doris, 1998, [7]). He bases his claims on a range of data from social psychology showing that choices can be affected by various manipulations, such as priming (often below the level of consciousness) or ostensibly banal environmental features. For example, subjects exposed to words related to rudeness on a scrambled-sentence task are subsequently more likely to interrupt a (staged) conversation between the experimenter and another person than are subjects primed with words related to politeness or controls who are not primed (Bargh et al., 1996) [8]. Other studies show that people are more likely to litter in a particular setting when it is heavily littered than when the same setting is clean (Keizer et al., 2008) [9]. (For reviews, see Bargh & Morsella, in press; Nisbett & Wilson, 1977) [3, 10].
Adding to the surprise, the data appear to show that very minor environmental influences can at times produce large effects. Among the examples Doris cites are the finding by Isen and Levin (1972) [11] that "[p]assersby who had just found a dime were twenty-two times more likely to help a woman who had dropped some papers than passersby who did not find a dime" (Doris & Murphy, 2007) [12, p. 34] and the finding by Darley and Batson (1973) [13] that "[p]assersby not in a hurry were six times more likely to help an unfortunate who appeared to be in significant distress than were passersby in a hurry" (Doris & Murphy, 2007) [12, p. 34].
These data are connected to the issue of responsibility in the following way: if your choice is strongly affected by situational factors in ways that you are unaware of, then you plausibly have an excuse for your actions. Doris echoes widespread philosophical assumptions when he says that to be responsible we must have normative competence, meaning that we consciously weigh the evidence, effectively deliberate, and make a decision (Doris, 2002) [14, p. 136]. If the deciding and weighing is below the level of consciousness, normative competence is compromised. No normative competence, no responsibility. (Other statements of Frail Control positions can be found in Wilson (2002) [15], Harman (1999) [16], Bargh (2008) [17], Wegner (2002) [18], and Appiah (2008) [19], as well as a recent news feature in Nature (Buchanan, 2009) [20].
The conclusion that our actions are much more frequently excusable than hitherto assumed could have monumental implications for the law, both criminal and civil, as well as our daily social interactions. A rather different picture of control emerges, however, once the range of data is expanded to include neurobiological, clinical, and other behavioral data, as well as considerations from evolutionary biology.
The co-evolution of control and situational responsiveness
The co-evolution of sensitivity in responding to a diverse array of environmental stimuli and the capacity for executive control is highly probable (Baumeister, 2005; Dennett, 2002) [2, 21]. Generally speaking, if an organism is to reap the benefits of adaptive responsiveness to its environment, it must also be able to control how and to what it responds.
Observations of mammalian behavior suggest that mature animals do indeed regularly exhibit control. A cougar that can carefully stalk a deer will do better than one who just runs after it; antelope that go skittering off every time they glimpse a lion in the distance are apt to waste excessive amounts of energy. And laboratory experiments show that rats can defer gratification to obtain a larger reward (Dalley et al., 2004) [22] or be trained to stop an already-initiated bar press (Eagle et al., 2008) [23]; relevant behavioral differences in these tasks are described as differences in the capacity for control, and the circuitry underlying these capacities is an object of study.
Mechanisms for exercising control in numerous species, hominins included, were probably selected for in conditions that favored being able to defer gratification, wait for the advantage, plan ahead, undertake a complex, multi-step action, and so on. In discussing control as a deep and general feature of animal behavior, Baumeister makes the point that the desire for control, both of physical and social conditions, is fundamental to reproductive success. He thus remarks that "if control is part and parcel of getting most of the things one wants in life, a person could evade wanting control only by not wanting anything" (Baumeister, 2005) [21, p. 96]. The pursuit of goals and achievement of them requires some measure of control, and the longer the lag time or the more obstacles in the path, the greater the need for control.
In the social environment of one's own species, the capacity to exercise control and select an appropriate action is perhaps even more critical. For example, hierarchy is extremely important in chimpanzee and baboon troops. If an individual is to avoid social ostracism (or worse), he must be able to exert substantial control in managing feeding (Tomasello et al., 2003) [24] and mating (Crockford et al., 2007) [25] opportunities, and in seeking entry into new troops (Sapolsky, 2002) [26].
In modern human culture, exercising control to adjust to and thrive in one's social environment is likewise paramount. In line with this, Baumeister (2005) observes that humans have an expanded repertoire of ways to satisfy the desire for control [21]. Humans exhibit control by, for instance, attending school, learning to build a house, maintaining a garden or farm animals, or going to work regularly, and such control tends to pay off over the course of a lifetime (Bembenutty & Karabenick, 2004; Mischel et al., 1989) [27, 28]. Skills of self-discipline and self-control are acquired by maturing children as a result of social pressure from many directions, including from peers (Blair & Diamond, 2008) [29].
In circumstances where nothing much hangs on doing A rather than B, vigilance may be lower and situational factors more significant. While pursuing a goal, one can encounter many "fringe" choices – whether to pick up a piece of litter, for example. Nevertheless, how one decides these fringe choices has very little to do with the normal function of executive control in pursuit of a goal. While attending to a task that has interrupted the pursuit of an important goal, people typically experience frequent intrusive thoughts about the goal, getting back to the goal, how to complete the current task quickly, and so on. Demonstrated experimentally and sometimes referred to as the Zeigarnik effect (Förster et al., 2005; Zeigarnik, 1927) [31, 32], this phenomenon implies that nonconscious processes continue to keep the goal high in priority until resumption of the goal-related action, no matter the interruption by task-irrelevant contingencies. Rather than frail control, this phenomenon and the others described above bespeak rather stalwart and sturdy control.
A neurobiological account of control
We suggest that a range of neurobiological data and models of brain function (see Box 1 in published version) point to a way to sharpen the meaning of "control". Our proposal has two parts. The first component is anatomical, specifying that the brain regions and pathways implicated in control are intact and that behavior is regulated by these mechanisms in a way consistent with prototypical cases of good control. So, for instance, if trauma or disease damages areas implicated in control – such as the fronto-basal-ganglia circuit (Aron et al., 2007) [33] and prefrontal cortex (Miller & Cohen, 2001) [34] – control will be impaired (Bechara et al., 1994, 1996; Damasio, 1994; Damasio et al., 1991; Fuster, 2008; Rushworth et al., 2004) [35-40]. The second component is physiological, and includes the molecular mechanisms whereby controlled is regulated. Even if the anatomical structures for control functions are intact, functionality requires that the levels of various neurochemicals – neurotransmitters, hormones, enzymes, and so on – are maintained normally. To a first approximation, what 'normal' means here will be determined experimentally by discovering links between uncontentious examples of control in behavior, and the neurobiological parameters in question; similarly for cases of impaired control. Roughly speaking, and granting individual variability, the normal range of the implicated neurochemicals (for a given species) is calibrated to the spectrum of values that the brain evolved to maintain in response to environmental demands typical of the species' evolutionary past. Outside this range, control will be compromised. For instance, in addicts, a delayed return to baseline of corticotrophin releasing factor (CRF) levels, correlated with high levels of anxiety, appears to be a major factor in addicts' recidivism (Koob, 2006; Koob & Le Moal, 2008) [41, 42]. Considering a different parameter, low serotonin levels are correlated with poor impulse inhibition, implying that this neurochemical plays an important role in control (Beitchman et al., 2006; Ferrari et al., 2005; Frankle et al., 2005; Nelson & Trainor, 2007) [43-46].
Is there a way to connect this neurobiological perspective on what constitutes being "out of control" with the sorts of "situational" factors cited in support of the Frail Control hypothesis? We suggest not. Normal levels of neurochemicals, and thus control, can be disrupted when external circumstances are, for instance, profoundly threatening. Great fear or shock can trigger a cascade of stress responses (including a rise in CRF, glucocorticoids, and the catecholamines epinephrine and norepinephrine (Koob, 2006; Koob & Le Moal, 2008; Lupien et al., 2007; Sorrells & Sapolsky, 2007) [41, 42, 47, 48] that may cripple control mechanisms. As a result, a captured spy may divulge secrets after "being shown the instruments of torture", or a cuckolded husband may knife the disgraced pair in bed. These are the kinds of circumstances that courts regularly consider when asked to reduce penalties. Significantly, however, they are not the kind of mundane circumstances on which the Frail Control hypothesis relies.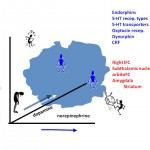 To be clear, the account just sketched does not set the unreasonable standard that every relevant neurochemical must be at its ideal level or even within its normal range. Instead, the physiological requirement for being in control is defined in terms of a hyper-region in an n-dimensional "control space". An important consequence of defining control in this way is that there will be many different combinations of neurochemical levels that fall within the "in control" hyper-region. As a result, a given neurochemical straying outside its normal range need not render a person "out of control", assuming that other neurochemicals are within their normal ranges and that the deviation is not too extreme (click to expand Figure).
The role of nonconscious processes
According to a traditional framework – which, begging some forebearance, we will call neo-Kantian – consciousness is a paramount, and perhaps even necessary, condition for a decision's being considered free. According to the neo-Kantian, consciousness must play a substantial role in most or all steps leading to a free decision: deliberating, choosing, intending, and acting. The interplay of reasons in deliberation must be transparent, since a reason must be conscious to be a reason at all; otherwise, it is a mere cause. Control, accordingly, is believed to be limited to those cases where most or all evidence, reasons, weighting of reasons, and so forth that contribute to a choice are consciously accessible. This transparency is central to the emphasis placed on consciously deliberated choice as a paradigmatic case of control in much of the philosophical literature, as well as the relation between "normative competence" and responsibility invoked by Doris (2006) [14, p. 136]. In keeping with the neo-Kantian perspective, the Frail Control hypothesis implicitly attaches enormous importance to whether the factors that play a role in an action can be consciously acknowledged as reasons. In our view, however, the general consciousness requirement for being "in control" is unrealistic. Exactly what role awareness of specific factors must play for an action to be considered controlled, relative to neurobiological criteria, is a matter not of stipulation, intuition, or semantics, but scientific discovery.
The exercise of skills is one domain where nonconscious processes are entirely consistent with – and even boost – successful control. Skilled responses are involved in just about everything we do, from driving, reading and gardening, to getting along with members of our community and finding our way home (Aarts & Dijksterhuis, 2000) [49]. Studies of skill acquisition, whether motor (Poldrack et al., 2005) [52] or cognitive (Fincham & Anderson, 2006) [53], indicate that in skilled or trained individuals, conscious attention is directed not to the intermediate steps, but to the larger aim and to unforeseen hazardous contingencies. Routine control can therefore be automatic (as evidenced, for instance, by increases in anterior cingulate cortex activity with practice (Fincham & Anderson, 2006) [53], while vigilant control can be directed to other things. Thus, habit and routine serve to spare the brain the energetic costs of close attention and to give the benefits of smooth operation (Berkman & Lieberman, 2009 [6]; Landau et al., 2004; Reichle et al., 2000; Sayala et al., 20060 [54-56], making nonconscious control of this sort a great energy- and face-saving device. Notably, cognitive, motor, and social skills, including those that underlie habit and routine, are often invoked in later explanations of actions and are certainly robust enough in their guidance of action to be considered genuine reasons.
Additional support for the value of automaticity comes from the hypothesis that (conscious) executive control is itself a somewhat limited resource. According to this view, known as the self-regulatory resource model, the amount of energy people have to expend on conscious self-regulation is limited, with the result that expending it on one task reduces the amount available for other tasks (Baumeister et al., 2007a, 2007b) [57, 58]. This suggests that nonconscious processes not only perform control functions of their own but may also help to ensure the efficacy of conscious mechanisms of control.
Furthermore, as evidenced by our ability to function while being bombarded by stimuli on a moment-to-moment basis, environmental factors – even if processed below the level of conscious awareness – do not flow straight through to trigger behavior. A reason for this is suggested by the model developed by Miller and Cohen (2001) [34], which proposes that the prefrontal cortex exerts control by sending bias signals that modulate activity in other brain areas. On this account, the totality of environmental influences – via automatic processes – clearly need not determine behavior. Even if, acting alone, environmental factors were to give rise to a pattern of activity divergent from a goal, the prefrontal cortex can, through bias signals, cause a goal-relevant pattern of activity to prevail instead.
In sum, although the idea that reasons and control can be (and often are) nonconscious is unacceptable to those who – even tacitly – accept the traditional, neo-Kantian view of action, it is consistent with the data.
Social psychology and control
The implications of the neurobiological account of control developed above for the interpretation of social psychological results can be summarized as follows: quite simply, most of the patterns of behavior described in the social psychology literature do not fall outside the realm of control (see also Bargh & Morsella, in press) [3]. The reason is that although the effects studied by social psychologists are mediated by situational factors and (often) by nonconscious processes, evidence indicates that the requirements for control set out above are typically met. First, the brain structures essential for control functions are intact (the anatomical condition). And second, the circumstances studied are usually within the typical range encountered in the evolutionary past of humans, and thus levels of various neurochemicals on which the proper functioning of the anatomical structures depends can reasonably be expected to be within their normal ranges (the physiological condition). Contrary to the claims of the Frail Control hypothesis, therefore, findings from social psychology should not be taken to motivate a substantial revision of our moral and legal practices of responsibility attribution.
The relationship between conscious and nonconscious control
To be clear, we are not advancing the radical thesis that there is no such thing as consciousness or conscious control. Our main point is rather that although consciousness – for instance of goals and what the neo-Kantian would call "reasons" – does sometimes have an important role in control, it is not required for control. Nonconscious control can be – and frequently is – exercised, and this control can be every bit as genuine as the conscious variety.
Given that the notion of nonconscious control is only beginning to gain traction in the scientific literature (Berkman & Lieberman, 2009) [6], we are not currently in a position to speculate about the precise interplay of conscious and nonconscious processes in controlled behavior or about the similarities and differences between the neurobiological substrates for these processes. Even so, it seems a safe bet that anatomical and physiological factors such as those discussed will figure in both conscious and nonconscious control in some fashion, and to some degree. The real work, however, will be in investigating the neurobiological details and teasing out how the anatomical and physiological factors underlying conscious and nonconscious control coincide and differ.
Moreover, while the extremes of conscious and nonconscious control may be fairly clear, the gradations and connections between cases are not yet major targets of research, let alone known with any certainty. However, by examining a range of cases between the extremes of conscious and nonconscious control and systematically varying the situational parameters, researchers may be able to illuminate the factors that prompt significant conscious involvement in the process of decision and action.
Conclusion
Recent challenges to the classical framework of control and responsibility are based on data from social psychology showing that minor external contingencies can play a significant role in behavior even when we are unaware that they do so. The data are taken to imply that control is rare and frail, and that the category of excuses from moral and legal responsibility should be modified accordingly. From our perspective, once these findings are placed alongside a broader range of data, a very different hypothesis is motivated: goal-maintenance and executive control are remarkably robust, and elements of control are often nonconscious. Neurobiological grounding for this alternative hypothesis is provided by findings that suggest a framework for control based on anatomical and physiological parameters. Accordingly, it is possible to model control as neural activity within a parameter space, where a region of the space characterizes values of various neurobiological parameters needed for executive control. So long as control-relevant anatomical structures are intact and the neurochemicals on which their functionality depends are within their appropriate ranges, sensitivity to situational contingencies and nonconscious processes are appropriate aspects of control and goal-directed behavior, not obstacles to them.
Acknowledgment and References
This post is a condensed version of Christopher L. Suhler and Patricia S. Churchland, "Control: conscious and otherwise," Trends in Cognitive Sciences 13 (Aug 2009): 341-347. Numbers in brackets correspond to the article's References list.