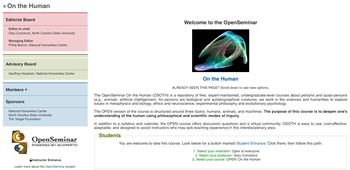 The OpenSeminar On the Human is a repository of free, expert-maintained, undergraduate-level courses about persons and quasi-persons (e.g., animals, artificial intelligences). As persons are biological and autobiographical creatures, we work in the sciences and humanities to explore issues in metaphysics and biology, ethics and neuroscience, experimental philosophy and evolutionary psychology.
Collaborative and inter-institutional, the OpenSeminar On the Human is currently under construction. Eventually it will offer a suite of model syllabi, structured readings, interactive exercises, a calendar, videos, discussion questions, podcasts and a dedicated Facebook group. All resources are publicly accessible.  Students may work through any of the courses free of charge.  Instructors may open, modify, and teach sections without fee. Easy to use, cost-effective, and adaptable, the platform is designed to serve the needs of those lacking explicit training or experience teaching in this interdisciplinary area.
Take me to OpenSeminar On the Human.