Here in Massachusetts, though, one of those very immediate things happens to be fish.  Fish bring us straight to the cold heart of the matter.  Gloucester, New Bedford, and the vanishing ranks of smaller fishing ports are still hunter-gatherer communities.  Man and Nature are what it's all about.  For reasons not entirely transparent, fish and fishing are big deals around here, able to headline, sway elections, and land Hollywood in a manner totally out of proportion to dollars or sense.  This is down with me: I'm an ichthyologist.  That New Englanders are such a codly lot affords us an excellent case study in the science of human-natural system dynamics.
The study of humans in nature is a slowly emerging discipline.  In a more innocent world, this was quaintly referred to as "human ecology".  It was a body of knowledge that could sit on a shelf right beside beaver ecology, or the ecology of fleas.  Today, the concept of humans as having an organic ecology seems quaint.  Most of us imagine ourselves as spirits of a parallel world, an anthroposphere, built out of culture and ideas, connectivities, epic physical constructions and heroic environmental transformations.  We dwell within our imagination of ourselves, in a built and conceptual bubble that is growing exponentially and pressing profoundly upon the biosphere within which it is yet contained.   Whether we imagine it a pregnancy or a cyst, the anthroposphere is there and growing malignantly, displacing internal organs that are essential to the survival of both human society and its maternal ecosystem alike.  Hence the successor to human ecology, a sort of obstetrical study of fetal intelligence, is the science of coupled human and natural systems, or CHANS.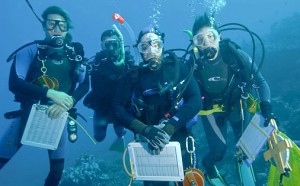 Gloucester is an excellent place to set about the formal investigation of CHANS.  This is exactly what a group of us are doing right now.  We are scientists from Boston University, the New England Aquarium, the University of Vermont, the University of New Hampshire, and an upstart start-up called "AFORDable Futures".  We are creating a computational model for the beehive that is the Massachusetts coastal economy.  We have a sister team at the National Center for Ecological Analysis and Synthesis in Santa Barbara, that is looking in greater detail at problems associated specifically with offshore wind energy.   Our team's model is built around an architecture called MIMES — Multiscale Integrated Model of Ecosystem Services — in a programming language called SIMILE.  This type of computational confection was first conceived by an oceanographer, Roel Boumans (our head programmer), and one of the early ecological economists, Robert Costanza.  An immediate need for our work was created by the passage in 2008 of America's most progressive law concerning coastal development: the Massachusetts Oceans Act.   Technically, the coastal zone begins at the peaks of coastal watersheds, and extends outward into the ocean to the edge of the continental shelf — tens or hundreds of miles offshore.  More than half the world's human population lies within the coastal zone.  For the Massachusetts Oceans Act, the area of interest begins 100 meters seaward of the beach, and extends precisely 3 miles offshore between the borders of New Hampshire and Rhode Island.  This is an area of feverish activity, both biological and economic, where everything is important to, and in the way of, everything else.  The purpose of the Massachusetts Oceans Act is to bring harmony to this cacophony, and to see that the music never stops: compatibility and sustainability for the most intensely inhabited human habitat on earth.

Many new things have come out of Massachusetts, and a surprising number of these first hatched and took root in Gloucester.  ObamaCare is based upon the Massachusetts health care system (Mitt can stop denying this).  And, President Obama's National Ocean Policy of 2010 is a direct descendent of the Massachusetts Oceans Act, though something in Rhode Island called SAMPA and one California Ocean Trust were arguably the basis of a fecund threesome.  There is a close political tie between health care and fish (and many other things) in our salty Commonwealth, symbolized by the big Sacred Cod that hangs in our State House.  The Massachusetts health care system was itself fashioned largely after the first collective health insurance for Massachusetts fishermen, a creation of the Massachusetts Fishermens' Partnership, this the brainchild of a Mr. David Bergeron.  David, with whom I have worked for many years in various collaborative research projects with fishermen, was first tapped to help New England fishermen by the Catholic Archdiocese of Boston.  Fishermen were growing angry with increasingly strict limits placed on fish catches by the National Marine Fishery Service.  Many of our fishermen are Catholic, and some felt that their lot might be bettered if the Archdiocese could persuade the Lord to intervene on their behalf.  It isn't as strange a concept as it might seem at first.  After all, running human-natural relationships through one or more deities is the first and most venerable of all models for rationalizing CHANS dynamics.  This not being in the Cardinal's job description, he eventually turned to David to help work things out.  David is a gifted organist and music director to the Mother Church of the Unitarian Universalists, located in downtown Gloucester; the Partnership was a labor of love for him.  The result of his efforts was a better shake for fishermen (whose jobs are among the most dangerous) and their families, and a search for other ways to build the community, the culture, and the welfare of a cultural and economic sector that perceived itself as even more endangered than its quarry.

To get at the real dynamics, the fishery must be appreciated from both sides: ape, and ecosystem.  Fishermen and fish alike continued to decline in Massachusetts… but only some fishermen; others were making out well.   Increasingly draconian catch limits — necessary to stave off the absolute destruction of the fishing industry — were causing a reduction and consolidation in the fleet, and a shift in dominance from small family-run day boats up to about 50 feet in length, to larger boats that could stay at sea for several days and cover greater distances.   Some reduction in fleet size was necessary to bring it in line with rebuilding plans for the diminished fish and shellfish populations. As small boats began to drop out, so did small ports, giving way to gentrified, high-rent waterfronts with little space for working vessels.  From the perspective of the fishing industry, this was an unmitigated disaster caused by heartless, overzealous regulators egged on by pinkie liberal conservationists.  But then the regulations bore their first fruit.  Haddock began to recover, and conservation measures put in place to protect cod habitat inadvertently helped stoke the highly valuable sea scallop fishery.  Obama was elected, and as part of his rationalist approach to government he appointed a noted marine biologist, Dr. Jane Lubchenco, to head NOAA, the agency that includes the National Marine Fishery Service.  Jane implemented a promising fishery management system called "catch shares" based on trade-able allocations.  This system reorganized the New England fishery into collective sectors, each with its own catch quota.  Meanwhile, the fleet consolidation already in full swing continued, and the industry blamed the slow-motion train wreck on the new system and on Lubchenco — even calling loudly for her dismissal.  Meanwhile those fishermen well-positioned to benefit from the new system quietly did so, and handsomely.

The fisheye view paints a broader and more interesting picture.  As part of something called the "shifting baseline", people consistently overlook the full and awesome story of overexploitation that brought fish stocks to today's astonishing nadir.  The best historical reconstructions (based on diverse information such as old captain's log books, market reports, and shoreline weir and pound net catches) indicate that fishable biomass now is about one twentieth of what it was a couple of centuries ago. Remember that fish are not oil; they are expected to replenish themselves as quickly as they are removed.  Some of their obvious failure to do this might be attributable to changing conditions, but the main and enduring contributing condition is greed.   To really see what has happened, we need broaden our scope not only in time, but also in space, and in detail.  Events in New England merely mirror a global collapse in fishery potential due to the serial squandering of one place after another — ever more remote, and one species after another.

Most serious of all is the steadfast resistance by all involved to a systems view.  Extractive industries affect not only a target species, or "resource", but also the entire system of which it is a part.  Furthermore, the ocean system produces not only (potentially renewable) tangible commodities that people extract and consume, such as seafood, but also a host of other ecological services that can crank the wheels of value production in the anthroposphere without themselves being diminished.  Wind and wave energy, commercial transport, access to whalewatching and boating, clean healthy beaches for swimming and other outdoor fun, vistas to contemplate, and from which to gain some measure of inner peace — these, too, are connecting points for people with the New England ocean ecosystem, and portals for the generation and flow of enormous wealth.  The key is that every time one person plugs into the system, it affects every other connection throughout it, including those of all the other people busily plugging in.

Every human intervention effects a change in the health and dynamics of the ocean system.  The dragging of nets across the seabottom — a common way of catching cod, haddock and flounder — destroys feeding and nursery habitats, a change that can take from five to fifty years or even more for full recovery.   Hook and line fishing, both commercial and recreational, can devastate marine communities if the largest, most fecund individuals are selectively removed.   Herring of several species (e.g. Atlantic herring, menhaden, alewife, blueback herring) support a large industry called a reduction fishery.  Instead of being eaten directly by people, these oily fishes are vacuumed from the ocean and rendered for animal feed (salmon farms are major customers), turned into human nutritional supplements (omega-3 fatty acids capsules for heart health and long life), or used to bait lobster traps.  Lobster bait is viewed by many as an essential subsidy to this regionally distinctive and valuable seafood sector.  The removal of herring leaves its own scars: slowing the growth of other fisheries, such as cod and bluefin tuna, that rely on herring for food; causing a redistribution of the beloved, aerobatic humpback whales and impacting the whalewatch industry; putting some endangered marine mammals and seabirds at risk (while possibly helping others — herring eat copepods, the obligate diet of the gravely endangered North Atlantic right whale).  Windfarms remove large areas of ocean from access by fishermen who drag nets on the seabottom, while quite possibly attracting fish that can be taken by other types of gear.  Every activity at sea that is fostered or filched, triggers magnified economic impacts ashore, through the whole chain of vendors who process and distribute marine products, or who provide supporting goods and services to that pie-slice of maritime concern.  The linkages and feedbacks are bewilderingly complicated… and most interestingly, complex.  Small perturbations can have totally unexpected and greatly magnified impacts depending upon where and when they are set in motion.  Stepping back from just Massachusetts Bay, we begin to see global climate change, and global market flux, together tugging and warping the Beanpot's hairball of coastal dynamics.

Darwin was talking about evolution in natural ecosystems when he famously suggested that "It is interesting to contemplate a tangled bank, clothed with many plants of many kinds, with birds singing on the bushes, with various insects flitting about, and with worms crawling through the damp earth, and to reflect that these elaborately constructed forms, so different from each other, and dependent upon each other in so complex a manner, have all been produced by laws acting around us."  We are of the worms.  The anthroposphere is just an especially densely-knotted rootwork jutting out from Darwin's bank, equally capable of helping to hold it together, or to provide that fatal purchase that will cause its destruction in the coming flood.  The crucial difference lies in just how humanity chooses to weave its own web in which to enmesh, and to engage, the machinery of nature.  It would definitely pay to better understand what we are doing.  This is the business of CHANS.

We cannot rely upon artfully crafted silicon to achieve omniscience.  Computers and computer models are flights of fancy on wax-bound wings.  They enable us to see the shifting auras of nature's possibilities, but they do not necessarily make reality any more clear.  Yet, possibilities may be enough, for we can also use models to see what is not possible, or at least not likely.  Our MIMES model casts forbidden zones and times in the seas of coastal Massachusetts.  It highlights places it is better not to go, tempting policies that we might better shove beneath the rug.  It shows us the things that nature simply will not do.  Natural ecosystem dynamics is the easy part, however.  Can it be as revealing of human behavior?  This notion is a favored theme of science fiction, manifest in Herbert's Dune and Asimov's Foundation trilogy.  Both propose that mass human behavior and its emergent braidwork of potential futures could actually be lawful, and therefore, calculable, whether by means of drug-induced trance or mathematical prowess.

What we have learned so far: the common mental model of CHANS is forged on greed, and it is innocent of scale, timing, complexity, and surprise.  Real CHANS deeply embody all of these things and more, and despite their nonlinearities, are surprisingly vulnerable to reason.  Computers do help.  It really is possible to imagine the best and the worst that can result from the actions available to us.  We really can tread a more or less safe path through the uncertainties of our ecological and economic futures.  Instead of a cyst, we can nurture a mother and child reunion, a reattachment to Nature, a re-acquaintance with Eden, if indeed a much stranger Eden than any we might have imagined entirely on our own.

As yet, we do not know how many alternative CHANS configurations are stable, representing viable futures.  We do not know how the emergent dynamics of behavior at the individual, community, watershed, national, and global levels relate to these alternative ecological economic scenarios.  We do not know how the global CHANS works, any more than we know how the mind works that is trying to decipher it.  Here is a complexity born of millions of species and billions of minds, and we are still a ways from grasping the workings of even one of either.  Our future depends upon achieving this particular understanding. We need a science and a medicine for humanity in the ecosystem. Clinical ecology is an existential crusade.  Fishing is also an existential crusade.  It does the soul good to spend time as a hunter-gatherer.  Unlike those whose boats I hop aboard for a lark, I can go home to a day job safely ashore and feast on my catch instead of having to sell it off to pay a child's dental bills.  I don't know whose illusions are more naïve: the fisherman's that the seas will continue to yield to our needs, or mine, that reason can win the day.  At least when I am with my fisherman friends, and however we may disagree, the importance of pondering Man and Nature requires no apology or defense.

Slow news days send hungry journalists back to the old springheads of mystery and metamorphosis: dark matter, how the brain really works, human cyborgs, life on other worlds.  The nature of humanity's relationship with Nature — the oldest campfire subject on the books, and kissing cousin to the meaning of life — doesn't make the headlines much.  Instead it has become a topic of embarrassment.  There is a vast and growing literature on our collective disenfranchisement from nature, freckled with classics like Thoreau, Muir, Carson, Dubos, Eiseley, Leopold, Abbey, McKibben; yet we spend little effort actively acknowledging or improving our relationship with the natural world.  Few of us are even actively aware that our existence depends entirely upon the welfare of a self-sustaining ecosystem, a biosphere.  Those of us who do worry about such things loudly lament the "Last Child in the Woods", gripe that our kids know their way around the Internet far better than the local wildlife sanctuary, mourn the vanishing of frogs and rhinos, rail at classical economists and their diminutive externalities.  We champion 350, vex at climate change deniers, chafe over limitless growth of economies and human population, vent steam over the studied ignorance of Tea Partiers.  We may as well howl at the moon.  People have more immediate things on their minds.