It was a chilly fall night in Columbus Ohio and we had just returned, as we did almost every evening in graduate school, from a sumptuous dinner at Wendy's (the city was, after all, the testing ground for the highest echelon of fast food chains). As usual, we had done our part for food research by consuming a nontrivial number of strangely textured burgers and florescent milk shakes. We had returned, also as usual, to our desks located under the bleachers of the football stadium at Ohio State, where we would remain until late into the night. That evening, my friend and officemate Trish Devine told me that she was going to subliminally prime stereotypic concepts about Black Americans to see if such unconscious activation would affect reactions to subsequent racially ambiguous information.
"You've got to be kidding me," I thought, even though I'm sure I found something supportive to say. There was something illicit about the idea and it seemed to be such an invitation to trouble when perfectly good research on impression formation awaited. Trish could continue to counterbalance hundreds of sentences about John and Mary and test memory for them. She gets her data and nobody gets hurt. But now that the unthinkable had been suggested, how could one not wonder about what might happen, what the ramifications would be if it turned out that the result she had obviously imagined did indeed obtain.
To put my trepidation into context, remember that this was 1983. We still wore t-shirts that said "Help stamp out disco in our lifetime", we were certain that Ronald Reagan would lose the election, Michael Jackson's hair had not yet caught fire doing a Pepsi commercial. It is fair to say that what we now know to be such well-established facts about dissociations between conscious and unconscious feelings were hard to even imagine, let alone about race, because they involved aspects of the mind into which experiments hadn't yet been ushered. The methods to study such topics were available in dribs and drabs. In the 1970s, a few studies of amnesic patients showing dissociations between explicit and implicit memory existed (like the work by Warrington and Weiskrantz1); with ordinary people, not much evidence existed except the landmark work on semantic priming by David Myers2 and Jim Neely's dissertation3, but the most outrageous they had gotten in terms of the content, was to test if "bread" primed "butter". A few papers on subliminal perception were also available (did king prime queen?), but in 1983 we didn't trust such results any more than we trusted that a virus that caused AIDS would be discovered that year.
So what I can say with certainty is that I had no idea that my remarkable friend was about to make a breakthrough that would open a brand new gate to theorizing and experimentation about the double dark side of the mind. There were those who studied one of the darks — the mental unconscious where processes unfolded without conscious awareness, without conscious control and without intention or self-reflection. There were also those who had studied the other kind of dark — humans with high amounts of melanin in their epidermis. Trish would bring these two darks together in a tough test, and in her work the scientific method was used to unearth new knowledge about human groups and our representations of them.
The first experiments showed evidence for unconscious negative attitudes towards Black Americans in those of us who seemed unaware that they even had such attitudes. When the psychologist's probe bypassed the conscious mind, we all looked more alike — many more of us showed negative attitudes toward dark skinned people.4 Now, it is more than 28 years later and mention of disco music only makes me smile nostalgically. I think Ronald Reagan did become president. And Michael Jackson, sadly, burned more than just his hair.
Today, as a science, we know a whole lot more about the nature of the implicit ways in which we think about social groups, and race in particular. After Trisha's experiments, I myself had joined the crew to try to figure it all out. It was impossible to do anything but.
---
Human beings have considerable capacity for self-deception5 because the architecture and the traffic through the mind allows information to be dissociated: it allows us to both know and not know the same thing, to feel and not feel the same way about the same thing, to be aware and not aware of the motives that guide behavior toward ourselves and others. Psychologists and neuroscientists have found it profitable to think about the mind's fractures by relying less on the malign motives of bad social actors as the explanation, and more on elucidating the evolutionary presses that created the minds we have and the sociocultural and situational presses that exert influence on us more proximally.
Over the past 25 years, we have studied the hidden biases of good people, i.e., self-professed egalitarians. My colleagues and I include ourselves in this group, and some of our methods have allowed us to be subjects in our own experiments. This unusual opportunity has brought us closer to some answers that would otherwise have been difficult to accept if we hadn't had the direct experience we did. It also brought us answers more quickly because the clarity and strength of the evidence were hard to refute.
In my own lab in the mid 1990s, the opportunity to view implicit bias up close came in the form of a test of implicit cognition called the Implicit Association Test (IAT)6. Although it can be put to use in a wide variety of settings, the first experiments that were done with it focused on the attitudes we have toward a variety of social groups — female and male, Black and White, elderly and young — giving us a simple 2 X 2: those groups of which we are members (female, elderly) and those social opposites of which we are not (male, young); those groups that are relatively more preferred (female, young) and advantaged (male, young) and those that are less preferred (male, elderly) and less advantaged (female, elderly).
To grasp the processes about which we speak, it is best to take a test yourself by visiting www.implicit.harvard.edu, and given the focus here on race, you might try one of a few tests involving these human categories — i.e., tests that use as stimuli faces of black and white adults or children, or dark-skinned and light-skinned people more generally. You can take a test that measures the association of "good" and "bad" concepts such as "love", "peace", "friend" or "anger", "war", "devil" with the aforementioned social groups or one that measures the association of these groups with "weapons" and "harmless" objects. If you are like most White and Asian people who take these tests, you'll have a harder time associating White+bad and Black+good concepts.
To set the stage for the main discussion, I will start with eight results. There should be no disagreement about what the data are, if we share assumptions about the nature of the test, and in fact these results are now sufficiently commonplace so as to be accepted. The real discussion we might have lies in the material that follows, concerning some unexpected effects and what they may be telling us about the nature of implicit attitudes. As well, I will mention a couple of the larger set of questions that remain unanswered.7
Implicit Race Bias Using the IAT: The Main Results
Many White Americans and Asian Americans in the world show robust association of white+good and black+bad compared to the opposite pairings; the percentage of White Americans who show such an effect is upwards of 75% with the remaining 20-25% being neutral or showing slight Black preference.
On self-report measures of group preference, White Americans report positive attitudes toward their own group but far less so than observed on the IAT.
African Americans and Africans do not show matched and opposite positive associations with their own group (i.e., Black+good). About 40% show pro-white bias, a little less show a pro-black bias, and the remaining 20% show neutrality.
On self-report measures of group preference, Black Americans report positive attitudes toward their own group and far more strongly than that observed on the IAT.
Self-reported and implicit attitudes towards the two groups are correlated, i.e., those with stronger expressed anti-black sentiment also show weaker associations of Black+good relative to White+good on the IAT. This correlation is consistently obtained, is moderate in size, suggesting that self-report and IAT measures have some shared components and have unique aspects to in what they each measure about group preference.
To respond to questions about whether the obtained results are a function of the laboratory environment in which they are experienced or the self selection of those who arrive at the website, a database continues to be gathered of published and unpublished studies that use "real world" sample populations (of actual voters in elections, doctors prescribing medication, nurses who work with drug addicts, managers who are making real job selections between White Europeans and Arabs, and so forth). The growing database of 56 studies at present includes a subset of studies of attitudes and stereotypes of racial and ethnic groups.8
Performance on the race IAT predicts behavior toward members of the groups tested. In a meta-analysis, the IAT race bias predicted such behaviors as non-verbal expressions, ratings of ability and performance, and decisions about resources. In each case the greater the bias detected on the test toward a particular group (Jewish Americans, Black Americans), the greater the negative attitudes observed in behavior toward them. The studies included in the published meta-analysis are largely samples of convenience, of college students who are more homogeneous than the population at large and the reported correlations may be an underestimate of the actual correlation between IAT score and behavior.9
Research shows that the IAT race effect is malleable, although the extent of malleability and the precise conditions under which it is obtained remain open questions. Malleability of any sort was not initially predicted because performance on the IAT is difficult to adjust based on one's volition. It takes much practice and an understanding of the task to move the outcome in the direction of one's preference and even so, it is not always possible to be successful. That is the nature of the test, and its signature feature. However, studies have shown that particular interventions can produce a significant reduction in the baseline IAT race bias. Such a possibility tells us that even those group attitudes, like race attitudes, that have built up over extended periods of time and been in us for extended period of time (unlike attitudes toward a new movie) are pliable in the direction of the intervention.
Unexpected Results
A student once described to me his frustration at the way research was being done in his lab. He felt that his advisor conducted a large number of experiments most of which were a wash. When a study did work, they published it. The student had a different view of how science should be done and wondered whether I considered this to be tricky or problematic science practice. Knowing the research program well, my response was more reassuring than he may have expected. The advisor had a strong theory, but a weak method, I thought. When tests didn't support the theory, it was reasonable to distrust the failure and continue to believe in what is a gorgeous theory. I offered my own research program as and example of the opposite problem. I had less of a theoretical stake in the questions I asked (okay, I'll admit it, I don't actually have a theory; I sure hope though that the work is theoretical, in the sense that a particular set of problems with particular histories and assumptions have been selected for study). What I did have was a preference for a classy family of methods in the form of priming, the IAT, startle responses, neuroimaging, ERP and the like. I have banged each can with one of these, and then whatever data were shaken out needed to be dealt with. The situation was more akin to looking at a visual illusion. We wouldn't say the illusion is wrong or that it didn't work like it was supposed to. It is what it is. It needs explaining.
Still, it is natural to go into most experiments with expectations of what ought to be, and every now and then we are puzzled by what comes out. This then, is the stuff we may find worth discussing.
Developmental Evidence
The work that has surprised me most recently came from research I began soon after arrival at Harvard in 2001. Here I met two amazing developmental psychologists who had also just arrived. I fell in love with Liz Spelke and Susan Carey, especially their approach to understanding the mind. I realized that by contrast to what they knew about their phenomena, I had no clue as to where implicit attitudes, beliefs, or identity, originated or how they developed. By contrast, I had never had a subject who needed a mother's permission to be in a study, except the occasional 17-year old summer student. But that was preposterous. How could I have gone for this long without worrying about the origins of implicit social cognition? Starting about a decade ago, Andy Baron, then an RA and later a graduate student in the lab, and now a professor at the University of British Columbia made a discovery that I found to be surprising. It was followed by confirmation in research by another student, Yarrow Dunham.
An infant is born into the world with some obvious built-in preferences — it spits out bitter tasting food and sucks in the sweet, it knows to orient towards a touch applied to the cheek and it imitates the facial expressions of other before it. We also know that babies have a ready mechanism to learn new preferences and that one dimension along which learning proceeds is familiarity; that which is seen over and over again, and by extension, that which is akin to the familiar is preferred because it, by comparison to the strange and exotic, is assumed to be trustworthy. However rapidly social learning occurs, it is assumed that learning requires some experience and looking at the same concept, say an attitude, develop over time provides a rich source of learning about its nature. Nobody would say that a three year old and an adult have had the same experiences with race. Even those who live in the most shielded of social environments in America have got to "learn race" in some way — by observation, via stories, through education, and perhaps most persistently from the media. It goes without saying that American adults have many hundreds of thousands of extra units of experience with social groups in general, and on race in particular than young children. We went in without strong hunches but some expectation that we would see developmental shifts. The most likely effect we would see is that as experience in intergroup settings and knowledge increased with age, so would implicit race bias (stronger pro-White/anti-Black associations).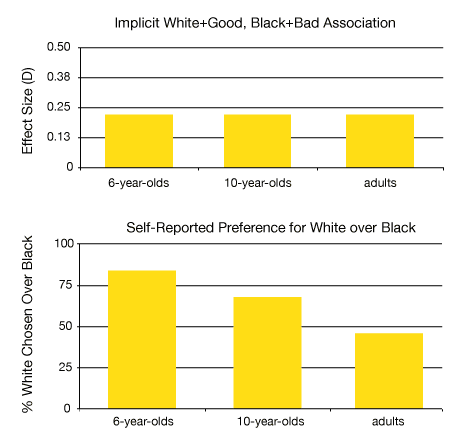 As the graph at right shows, that was not what we obtained.10 When asking the blunt question of whom one likes, the youngest White children we tested, aged 6, are significantly likely to say that they prefer a White child to a Black child. This fits with research by Francis Aboud, who showed much earlier that young children are not pure and without explicit prejudice.11 Interestingly, 10 year olds in our sample are less likely to show as strong ingroup preference, suggesting that they have either lost that strong preference or more likely, that they have learned about the inappropriateness of expressing consistent preference for those from one's own group. We have some anecdotal evidence that 10 year olds may indeed be struggling here — an occasional child did ask the experimenter to remind them about the race of the child on the previous trial so that they could choose one from the other group! As the data show, adults are at chance in their choice, with Black and White targets selected equally often. Together, this progression towards conscious egalitarianism may be best viewed as an effect of social learning about race tolerance.
The IAT data were unexpected. Not so much that we see evidence of ingroup preference at the earliest age we were able to test but rather in the stark stability of the preference across development. Year upon year of greater experience with race seems to have no impact on the IAT attitude. We are left with the conclusion that whatever the nature of the preference detected by the IAT, it is a primitive form of attitude that expresses itself relatively early in life and doesn't change with increased experience with the attitude object that must occur between age 6 and adulthood.
In further work with Yarrow Dunham, we went to even younger ages, something we could not achieve with the version of the child IAT that Andy had developed. Now, we adapted a test previously used by Hugenberg and Bodenhausen in which racially ambiguous faces were judged as Black or White. Results with adults had shown that if the racially ambiguous face happened to have a smiling expression it was more likely to be categorized as White, and when the face had a frowning expression, it was more likely to be categorized as Black. Yarrow thought this would be a good procedure for our purposes because even a child can do it.
So we conducted a large n study including children as young as 3 years of age, ramping up to adults and including a range of age groups in between. We found again, in this new test that is quite different from the IAT, the same striking result: White children as young as three and all ages upwards through adulthood showed an identical level of ingroup favoring bias.
Questions: Why is this effect invariant across the age spectrum? Shouldn't the age of the person matter? If age doesn't matter, it seems obvious that experience doesn't shape this particular form of attitude. It gets into us early and stays. I welcome views on the meaning of this result and whether other procedures can be used to go to ages even younger while still being feasible for use across all ages for comparison.12
A second result has been on my mind since we first obtained it at Yale in the mid 1990s. When we sliced the data from 50 Black American students we found that the no-bias absolute zero sat squarely in the middle of the distribution — that is, half the sample of Black students fell to the right of the zero score showing a pro-white bias, the other half to the left of the zero, showing pro-Black bias.
The first such observation of a lack of strong ingroup preference led us to interpret these data as unique to the sample. Black students at an elite institution with a largely White faculty, administration and student body, we speculated, may show such a pattern of neutrality, but surely it wouldn't obtain in most other samples of Black Americans. But the very same result has indeed obtained over and over again and it has been replicated among Black South Africans as well (the study was motivated by the recognition that Black Americans may show this because they are not only disadvantaged but also because they are a statistical minority in the United States, something Black South Africans are not).
At the website, with hundreds of thousands of Black Americans taking the test, about 40% percent of Black Americans show a pro-White effect, about 40% show a pro-Black effect, and the remainder are neutral. Each ordinary sized sample we test, as well as the large numbers at the website show the same pattern. Here's the whammy: Young Americans who come from disadvantaged groups look like the adults of their group.13 Again, we might have expected that children would show an ingroup favoring effect that is then mitigated in adults who come to realize that their group isn't regarded to be as good as others. But younger children who are Black and Hispanic show effects that map onto those produced by adult members of their group. How is this possible? How do children come to know and internalize so early in life exactly what adults have? Shouldn't there be an effect of slower learning that is visible in developmental trends?
These data suggest an additional possibility that the data from White samples do not. At least the data from White children and adults can be explained as reflecting an early emerging and stable preference for one's ingroup, with that preference reflecting a socially adaptive mechanism. When adults of a group do not show the expected group love, we assume that they have come to terms, through experience, with lower regard for their own, less privileged, group. But children of that group ought to show robust ingroup preference, before it gets beaten out of them. We don't see that; instead, we see a fateful mapping of neutrality between child and adult. Implicit attitudes represent an automatic and early internalization of whatever the social world signals about the status or value of one's groups. That's the reason Black and Hispanic young people show exactly the same reactions as their adult group members.
A final age-based result gives further food for thought. Among the many tests we've used at the website, a long-standing test is one that measures the stereotype that men belong in the world of work, women at home. The test involves association of clear gender markers like first names to capture the categories female (Susan, Mary, Jane) and male (Steve, Matt, John) with attributes of home (garden, kitchen, children) versus career (job, briefcase, office). In adults, both male and female, the outcome is a robust association of male+career and female+home relative to the opposite pairing. But there is also a clear age trend on this test. Starting with children in the low teens, the data from thousands of subjects show that as age increases, so does this stereotype. Not surprisingly, the story we and others tell is that the world experienced by younger people is indeed different from that of older people on this dimension of gender and career — there are many more women in the workplace with each passing decade; even the number of stay-at-home dads is likely to be higher now than before. This difference in environments, we have assumed, is responsible for the observed age effect.
In the same breath, many parents report that likewise, on race, their children are in a quite different world than their own. They report stories of their children being oblivious to race, having friends who cut across race lines, and rap and hip-hop having changed their children's attitudes toward Black Americans. We don't like busting parents' myths, but the data do not bear this out. Unlike the gender stereotype test, the data from hundreds of thousands of test takers at the website shows no difference in the race attitude as a function of age. Whatever social changes have occurred that involve race, our children are not different from us in their implicit race attitude. What does this mean, given the change in gender stereotypes by age? Does it mean that in spite of all the changes since civil rights legislation, social change and media change, that a 10 year old and a 70 year old have the same race attitude? Does it mean that racially our lives are still so segregated that that to nudge implicit attitudes we haven't created the appropriate conditions of contact?
Self-Esteem
Many years ago, Jennifer Crocker and Brenda Major reported a result that was unexpected. Across subgroups that varied greatly in social advantage, they found that members of less advantaged groups did not show lower self-esteem; in some cases, it was actually higher.14 The review they presented was thorough and left little room for argument, except one: their data, due to availability, consisted of self-report measures of self-esteem asking for reactions to questions such as "I am a person of equal worth compared to others".
It is possible that on such blatant measures, members of socially disadvantaged groups are especially likely to take control by expressing a positive sense of self. I certainly thought that was a possibility and when we began research with the IAT and an implicit self-esteem measure was developed (strength of me+good vs. me+bad, compared to "other") we looked at self-esteem by racial groups and found the same surprising result (at least to me) that Black Americans showed the highest self-esteem of any group. Another intuitive prediction gone by the wayside! Self-esteem is robust enough in most people that "given" group membership, like race, does not seem to affect it.
Many years later, we showed another twist to this result. A great deal of research had shown that on self-report self-esteem inventories, Asian Americans and Asians reported lower regard for self, and many cultural psychologists believed this difference to be reflecting a serious western versus eastern difference in self regard, i.e., not a simple effect reflecting demand characteristics to show confidence or modesty but a true difference in how the self is viewed. Our work in China, Japan and the United States showed that whatever the differences in self-reported self-esteem were, people of all three cultures showed robust implicit self-esteem. An unexpected result based on intuitions of the past but giving a more accurate view that reports that are not modified by the pressures of presentation show that a tendency toward high self-esteem is universal. Here, the implicit measure wiped out a previously established cultural difference and showed that we are all more similar than may have been assumed.
We Don't Know Why Yet
In reporting on some well-replicated results earlier, I showed that even on tests on which a large majority within a sample show a particular preference or belief (White=good, Home=Female) there is always a significant minority that shows no such preference or a slight tilt in the opposite direction (Black=good, Home=Male). So who are these people who on a given test do not show the effect that the majority of the sample (70, 80, 90%) do? Why, if they apparently live in the same culture as the rest of us, do they not show the same preferences and beliefs? In our conversations we find that those who do not show the effect demonstrated by the majority also say that they do not have any idea as to why they are unique. It is my sense that those who are neutral are cognitively oblivious to signals of social group membership, either on a particular dimension such as gender or race/ethnicity or more generally.
A White construction worker who was once interviewed regarding his IAT result (he had showed no bias one way or another) said that he didn't notice things like that. His spouse was surprised that in identifying a co-worker, he hadn't immediately identified the co-worker as Hispanic, which may have been the most obvious way to single him out from the group. Our construction worker said that he didn't notice things like that. It is possible that some of those who do not show the majority pattern are oblivious in this way. Others tell more expected stories about trying to lead an examined life around social issues and practicing counterstereotypic behavior. But we have no way of knowing whether this actually accounts for their IAT behavior. So far, we have found no clear story we can tell about the qualities of those who don't show the standard effect of ingroup preference (we haven't had the time to do intensive studies of this), it is an oft-asked question to which I don't have a good answer.
A second dimension that I put forward for discussion is the question of malleability. I know that I began as a skeptic on this, believing that intense and lengthy interventions would be needed to shift implicit cognition. To my surprise, my colleagues proved that even milk toast experiences that lasted a few minutes were sufficient to shift implicit attitudes. Such effects have been found since then in my lab. The presence of a Muslim experimenter made attitudes toward Arab Muslims more positive in liberals and more negative in conservatives. Thinking about the virtues of winter for a few minutes blunted an otherwise positive attitude toward summer. But I don't know how easily replicable these effects are and I certainly don't know how to definitively produce an effect or a long-lasting one. Maybe others do and they'll tell me in their comments15. I wonder when we'll have a clear understanding of the conditions under which we can definitively observe and predict change, and how we might mold it into a state desired by our conscious attitudes.
---
In the age of Obama, it may be passé to quote MLK Jr. But until the president develops a spine, I'll stick with the older civil rights leader. In a speech that Martin Luther King Jr. gave as among his last (at the convention of the American Psychological Association) he said that what social scientists could do to assist the cause is to "tell it like it is". We have told it like it is about the research discoveries, whether it is palatable or not. The personal discovery I made about the contents of my own mind, especially regarding race, hasn't been easy to come to terms with even though a long time has passed since I first came face-to-face with it more than 15 years ago. But there were others, colleagues and strangers who also told it like it is about themselves, and for their company I am grateful. They have made it no longer a matter of courage for me to tell it like it is.
Notes
Acknowledgments: I thank the Edmond J. Safra Center for Ethics at Harvard University for support and Paul Meinshausen for comments and editorial assistance.