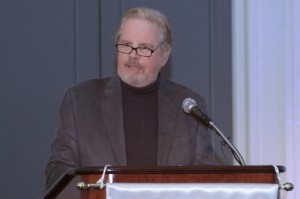 The North Carolina State University College of Humanities and Social Sciences joins with the Department of Philosophy and Religious Studies to announce a workshop celebrating Professor Tom Regan's contributions to ethical theory. The meeting is open to the public but seating is limited and available only on a first-come first-served basis. The gathering will be on the North Campus in Raleigh, NC, Withers Hall, room 331, on April 15 and 16.
In support of the festive occasion we invite well-wishers to leave greetings in the box below for Tom, seen here speaking at The Royal Institution, the world's oldest independent research organization.
1. Fill in your name and email address. We do not make your address public; we use it to send you a message confirming that we've received your submission.
2. Copy and paste your remarks into the white box marked 'Leave a Reply.'
3. Click on 'Submit Comment.'
That's it. Note that comments cannot be edited after posting, so please ensure that you've gotten things just the way you'd like them before pasting them into the box. You'll receive a notice that your comment awaits moderation.