The Meaning of
"The Star-Spangled Banner"
Thursday, January 20, 2011
7:00 p.m.–8:30 p.m. (EST)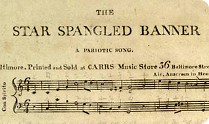 Leader
George Edward Woodberry Professor in Law, Literature, and Criticism
Columbia University
National Humanities Center Fellow
About the Seminar
We think we know "The Star-Spangled Banner". But how many of us realize that Francis Scott Key was not looking at the flag we now revere as the original and that he never set foot inside Fort McHenry?
An instant success in 1814, the anthem, or at least its first stanza, opens so many sporting events today that some Americans think it ends with the words "Play ball!" Yet as we anticipate the first pitch or the kickoff, we often fail to pay attention to what our anthem actually says, to its expression of doubt, anxiety, danger, and the difficulty of envisioning a new and unformed republic. And what of the three verses we don't sing?
Explore the context and meaning of "The Star-Spangled Banner" to show students how it illuminates Enlightenment thought and America's early struggle to define itself as a nation.
Seminar Recording
Download Recording (You will need to install the WebEx ARF player, available at download, to play back the recording.)