Technical Help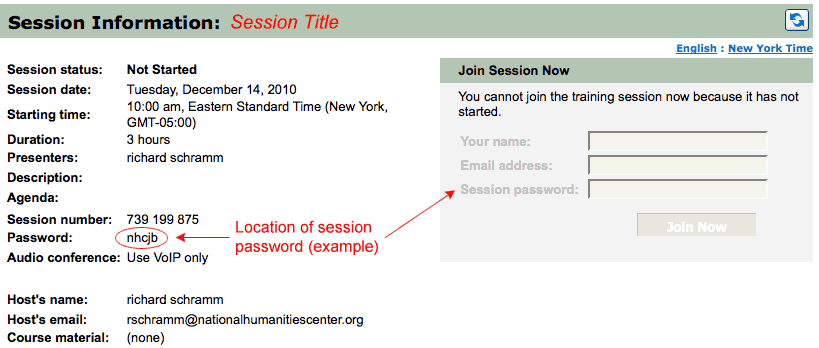 WebEx online classroom screen showing the location of your seminar session password.
We recommend that you go to the WebEx Set Up Training Manager (on the left side of the session screen) and proceed through the setup. This will configure your audio and takes less than five minutes.
To test your connection to WebEx use this link: http://www.webex.com/lp/jointest/
We also recommend that you log in to the classroom five to ten minutes prior to the seminar start time. This will allow time for your audio to connect.
To initiate the Audio Setup Wizard once you have joined the session, at the top of the screen click on: Audio > Audio Setup Wizard. Next: Audio > Integrated VoIP > Join Conference.
Concerning Microsoft Vista Audio issues (PDF).
Concerning operating system and browser support.
If you have a problem or need assistance, please email Caryn Koplik at ckoplik@nationalhumanitiescenter.org, or call (919) 406-0111.