The Cult of Domesticity

Wednesday, June 29, 2011
10:00 a.m.–11:30 a.m. (EST)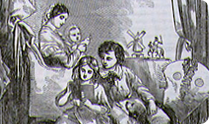 Leader
Professor Emerita, Department of English
North Carolina State University
National Humanities Center Fellow
About the Seminar
The Cult of Domesticity was a societal ideal promoted especially during the mid- and late nineteenth century. It provided a behavioral handbook, a "code," for middle-class white women in America that served as a way to value, to judge, and to control how they would both see themselves and be understood by others. Women who questioned the social, economic, and artistic limitations that this code imposed learned to challenge it from within the "sphere" of influence that it prescribed. This workshop will explore how the cult of domesticity constrained women, and how some women transformed it into a tool of empowerment.
Seminar Recording
Download Recording
You will need to install the WebEx ARF player, available at download, to play back the recording.
Assigned Readings
To incorporate seminar texts into your teaching, we offer the National Humanities Center's Primary Document Application Form.
Excerpt from James Fenimore Cooper, Notions of the Americans, 1824

(PDF)

Catharine E. Beecher, A Treatise on Domestic Economy for the Use of Young Ladies at Home and at School, 1841, Ch. 1, "Peculiar Responsibilities of American Women"
Fanny Fern (Sara Payton Willis Parton), Fern Leaves from Fanny's Portfolio, 1853
Harriet Jacobs, Incidents in the Life of a Slave Girl, 1861, Ch. 5–7, 10–11, 14–17
Harriet Beecher Stowe, Uncle Tom's Cabin, Chapter IX: "In Which It Appears That a Senator Is But a Man"
Radio Play "Louisa" by Mary Wilkins Freeman
Barbara Welter, "The Cult of True Womanhood"