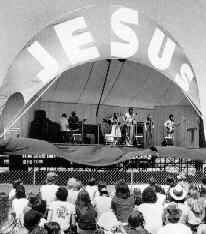 Christian rock concert.






Roman Catholics and the American Mainstream in the Twentieth Century
These days you may talk a lot about American identity in your classes. The experience of American Catholics in this century illustrates the triumph of assimilation and the continuing struggle to find a place here.


The American Jewish Experience: Antisemitism and Assimilation
Continue the story of European Jewish immigrants as they forge their identity as Americans in the twentieth century.


Islam in America: From African Slaves to Malcolm X
Islam, with roots deep in our history, is now the second largest faith in this country after Christianity. A consideration of the Islamic presence in America provides new perspectives on topics you teach—
slavery, immigration, urbanization, race, and religion.


Religion in Post-World War II America
If you get this far in your course, you might want to give your students some flavor of the religious diversity in America at century's end as spiritual seekers, "foreign" religions, and battles over religion in the public square become more common.


The Christian Right
Guide your students to a balanced overview of the Christian Right—its historical background, its social worldview, and its political goals and leadership since the 1970s.