Aquinas's Metaphysics of Intellect: Being and Being-About
Philip L. Quinn Fellowship, 2017–18

Thérèse Cory is the John and Jean Oesterle College Chair and Associate Professor at the University of Notre Dame and works on medieval theories of mind, cognition, and personhood, with special focus on the thought of Thomas Aquinas and his thirteenth-century interlocutors. Themes that animate her research include, e.g., the nature of consciousness, the history of the self/person and concepts of subjectivity, what it means exactly to be "immaterial," Aristotelian hylomorphism and how it applies to mind, and problems connected with mental representation and intentionality, the relationship of imagination and intellect, and medieval theories of light and vision. In approaching these themes, she's particularly interested in uncovering different ways of "modeling" the mind and its activities.
Another central research interest of Cory's is how Islamic philosophers—such as al-Farabi, Averroes, Avicenna, and the author of the Liber de causis—shaped Scholastic thought in medieval Christian Europe. Getting into the mindset of medieval philosophers, in her view, requires a scholarly community that is committed to rediscovering the broader shared philosophical tradition that connects Muslim, Jewish, and Christian thinkers in the Middle Ages, and tracing its patterns of development from late antiquity. To that end, she serves on the executive committee of the "Aquinas and the Arabs Project."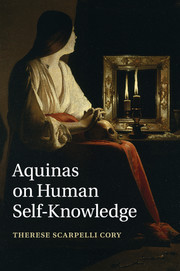 Cory, Thérèse Scarpelli. "Knowing as Being? A Metaphysical Reading of the Identity of Intellect and Intelligibles in Aquinas." American Catholic Philosophical Quarterly 91 (2017): 333–51.
Cory, Thérèse Scarpelli. "Attention, Intentionality, and Mind-Reading in Aquinas's 'De Malo' 16.8." In Aquinas's Disputed Questions on Evil: A Critical Guide, edited by M. V. Dougherty, 164–91. Cambridge, UK: Cambridge University Press, 2015.
Cory, Thérèse Scarpelli. "Rethinking Abstractionism: Aquinas's Intellectual Light and Some Arabic Sources." Journal of the History of Philosophy 53, no. 4 (2015): 607–46.
Cory, Thérèse Scarpelli. Aquinas on Human Self-Knowledge. New York: Cambridge University Press, 2014.
Cory, Thérèse Scarpelli. "Augustine and Aquinas on Diachronically Unified Consciousness." Vivarium 50 (2012): 354–81.