Freedom, Power, and Disability
GlaxoSmithKline Fellowship, 2017–18

Professor Hirschmann works in the history of political thought, analytical philosophy, feminist theory, and the intersection of political theory and public policy. She is a former vice president of the American Political Science Association and is currently the Director of the Program on Gender, Sexuality and Women's Studies and the Alice Paul Center for Research on Gender, Sexuality and Women.
Her book Gender, Class, and Freedom in Modern Political Theory (2008) considers the concept of freedom as it developed in the canon of political thought from the 17th to 19th centuries and examines how issues of gender and class affected the dominant conceptions of freedom. Her previous book, The Subject of Liberty: Toward a Feminist Theory of Freedom (2003), took a more contemporary approach and considered the concept of freedom in the context of political and social issues such as domestic violence, Islamic veiling, and U.S. welfare reform. This book won the 2004 Victoria Schuck award from the American Political Science Association for the best book on women and politics, and Choice recommended this book as "essential" and "feminist theory at its best." Professor Hirschmann has also published Rethinking Obligation: A Feminist Method for Political Theory (1992), and several co-edited volumes, including Revisioning the Political: Feminist Interpretations of Traditional Concepts in Western Political Theory (with Christine Di Stefano, 1996), Women and Welfare: Theory and Practice in the U.S. and Europe (with Ulrike Liebert, 2001), Feminist Interpretations of John Locke (with Kirstie McClure, 2007), Feminist Interpretations of Thomas Hobbes (with Joanne Wright, 2013), Civil Disabilities: Theory, Citizenship and the Body (with Beth Linker, 2014), and Political Theory Meets Disability (with Barbara Arneil, 2017).
Currently serving on the editorial boards of several leading journals, including The Journal of Politics, Professor Hirschmann has held a number of prestigious fellowships. She was a fellow at the Institute for Advanced Study at Princeton and the Bunting Institute of Radcliffe College (now the Radcliffe Institute for Advanced Study), The University Center for Human Values at Princeton University and the Penn Humanities Center. She has also held fellowships from the American Council of Learned Societies and the National Endowment for the Humanities. Most recently, Professor Hirschmann has received fellowships from the American Council of Learned Societies again, the National Humanities Center in North Carolina, and has been invited to be a Fernand Braudel Senior Fellow at the European University Institute in Florence, Italy. She will spend the 2017-18 academic year on leave working on her latest book, Freedom, Power and Disability. Professor Hirschmann also taught at Cornell University in the Department of Government for 12 years before coming to Penn.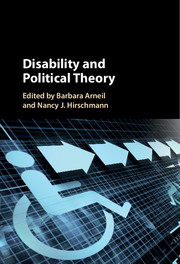 Hirschmann, Nancy J. "Democracy, Depression, and Disability: Jean Elshtain on Democracy, Despair, and Hope," in In Search of the Ethical Polity: Critical Essays on the Work of Jean Bethke Elshtain, Notre Dame Press, in press, forthcoming 2018.
Arneil, Barbara and Nancy J. Hirschmann, eds. Disability and Political Theory. Cambridge University Press, 2017.
Hirschmann, Nancy J. "The Sexual Division of Labor and the Split Paycheck," Hypatia: Journal of Feminist Philosophy, Vol 31, Issue 3 (summer 2016), 651-67.
Hirschmann, Nancy J. "Hobbes on the Family," in The Oxford Handbook to Hobbes, ed. Kinch Hoekstra and Aloysius P. Martinich, Oxford University Press, 2016.
Hirschmann, Nancy J. "Disability Rights, Social Rights, and Freedom," Journal of International Political Theory, v 12, n. 1, February 2016, 42-57.
Hirschmann, Nancy J. and Beth Linker, eds. Civil Disabilities: Citizenship, Membership, and Belonging. University of Pennsylvania Press, 2014.