Leslie Diane Myrick, 2019–2020
A Prosopography of the Plains: California-Oregon Trail Emigration Patterns and Social Networks in 1849
Resident Associate, 2019-20
Retired Associate Editor, Mark Twain Project, UC Berkeley,
Email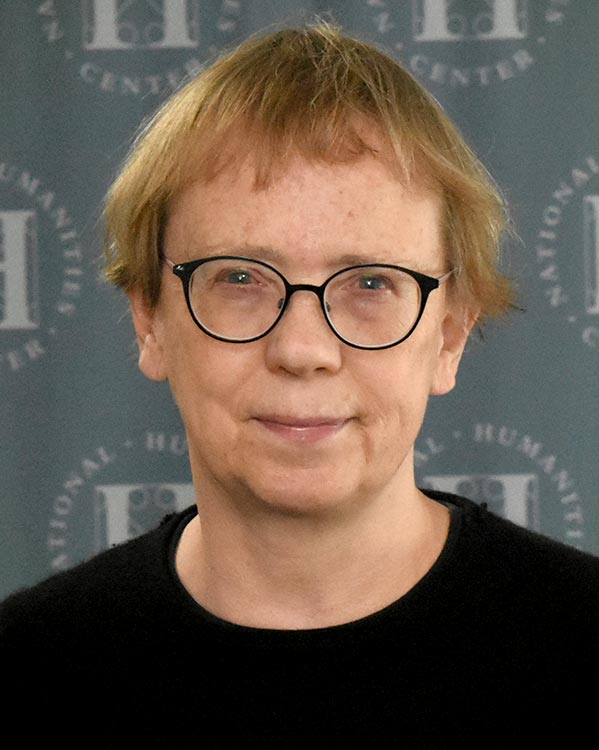 Leslie Diane Myrick recently retired from the Mark Twain Papers and Project at the Bancroft Library at the University of California, where she was an associate editor and the lead developer for the online edition, Mark Twain Project Online. She previously held digital library programming positions at NYU and Columbia University, where she contributed to bringing to light projects such as Digital Scriptorium and the Afghanistan Digital Library. Prior to working in the digital realm she held a lectureship in Classics at UCLA, and dedicated several years to teaching high school Latin and AP English at a Catholic high school on Long Island.
She earned an Individualized PhD in Classical and Medieval Celtic Languages and Literatures from UCLA in 1991, culminating in a dissertation that examined the various literary and cultural striations in the Togail Troi, a medieval Irish adaptation of the Latin De Excidio Troiae. An expansion of this work entitled From the De excidio Troiae historia to the Togail Troi: Literary-cultural synthesis in a Medieval Irish adaptation of Dares' Troy Tale, was published by C. Winter in 1993. Her most recent publication, co-authored by Christopher Ohge, is an edition of letters written to Mark Twain as part of an elaborate April fool joke: Mark Twain: April Fool, 1884, published by ScholarlyEditing.org. Interrogations in that study of how social networking data in digitized correspondence can be mined and represented in network graphs led her to her current project, an edition of ca 1300 letters written by travelers on the California-Oregon trail in 1849.
Selected Publications
Myrick, Leslie and Christopher Ohge, "Mark Twain's April Fool," The Annual of the Association for Documentary Editing, Vol 38 (2017), www.scholarlyediting.org.
Smith, Harriet, Benjamin Griffin, Vic Fischer, Michael Frank, Sharon Goetz, Leslie Myrick, eds., The Autobiography of Mark Twain, Volume 1. University of California Press, Berkeley: 2010.
Guenther, Rebecca and Leslie Myrick, "Archiving Websites for Presentation and Access: METS, MODS, and MINERVA," Journal of Archival Organization 4 (2006), 145–170.
Myrick, Leslie. From the De Excidio Troiae to the Togail Troi: Literary Cultural Synthesis in a Medieval Irish Adaptation of the Late Antique Troy Tale, Heidelberg, 1993.
Myrick, Leslie. "The Way Up and Down: Trace Horse and Turning Imagery in the Orestes Plays," Classical Journal, 89.2 (Dec. 1993–Jan. 1994), 131–148.
Return to current fellows